Chills, thrills and more in Nik Wallenda's death-defying feat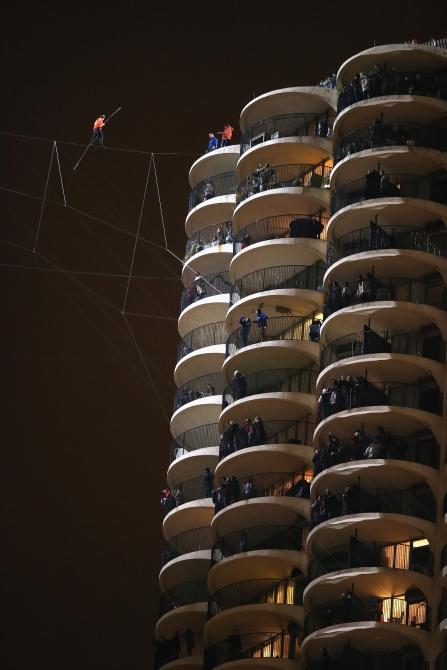 Residents watch from their balconies as tightrope walker Nik Wallenda walks along a wire, slightly more than a half inch in diameter, blindfolded, between the towers of the Marina City condominium buildings following his walk from the west tower to the top of the 671-foot-tall Leo Burnett building on November 2, 2014 in Chicago, Illinois. The Marina City towers are 588 feet tall. Photograph: Scott Olson/Getty Images

Daredevil Nik Wallenda created history on Sunday night as he successfully walked between skyscrapers on high wires suspended over 600 feet above Chicago without a harness or a safety net and blindfolded.

The seventh-generation aerialist called it his most challenging feat till date.
Wallenda walks along a tightrope between two skyscrapers. Photograph: John Gress/Reuters
In the over two-hour long challenge that was aired live on the Discovery Channel, Wallenda set two world records -- walking on a high wire strung between three Chicago skyscrapers. He did one of the walks on a significant incline and another blindfolded.
In the second part of the feat, he crossed above the Chicago River to the Leo Burnett Building, finishing 671 feet above the street, according to Skyscraper Live's website.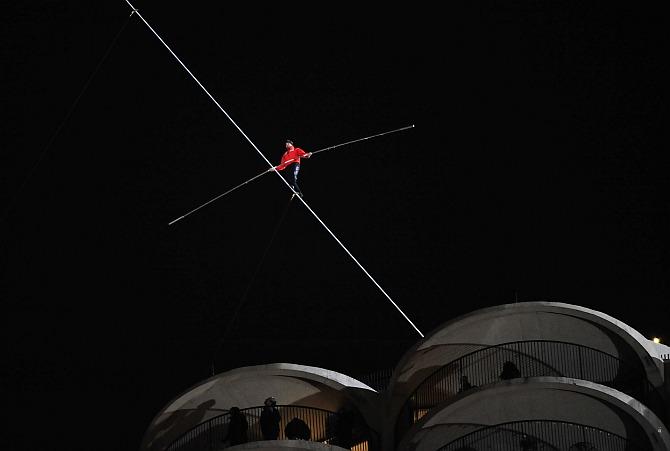 Wallenda has performed numerous high-wire feats that include being the first person to cross Niagra Falls on a tightrope. Photograph: David Banks/Getty Images

"The big thing is the intimidation factor," Wallenda said. It's hard "to look down from 600 feet in the air."
After the walk, Wallenda said he had been planning to take a selfie halfway across. But he thought better of it and settled for a post-walk selfie with NBC's Natalie Morales, one of the hosts of the Discovery special.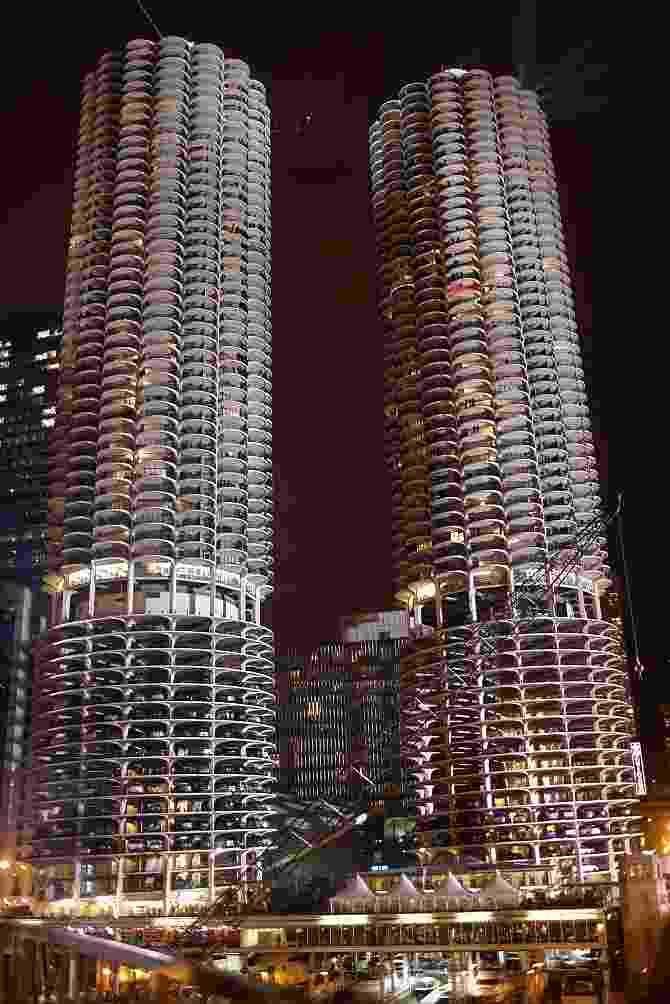 Wallenda performs his blindfolded walk along a tightrope between two skyscrapers. Photograph: John Gress/Reuters
A member of the famous Flying Wallendas, founded by his grandfather Karl Wallenda in the 1920s, Wallenda is no stranger to death-defying stunts.

He walked across a wire 1,500 feet above a river in Arizona in June 2013, becoming the first person to traverse the gorge near Grand Canyon Park in Arizona. Before that, he made a record-breaking journey across Niagara Falls in 2012, CNN reports.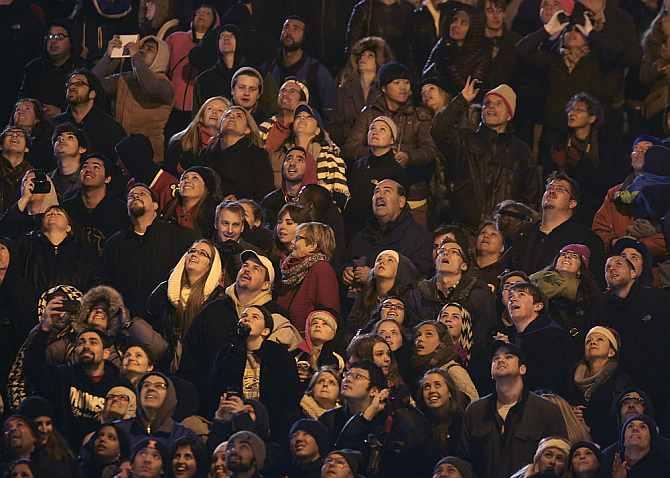 Spectators watch in awe as Wallenda perform the feat. Photograph: John Gress/Reuters