Theresa May on Sunday appointed her close ally Damian Green as her first secretary of state while Priti Patel remained the senior-most Indian-origin Cabinet minister as the embattled British premier unveiled her new Cabinet after shock election results forced her to form a minority government.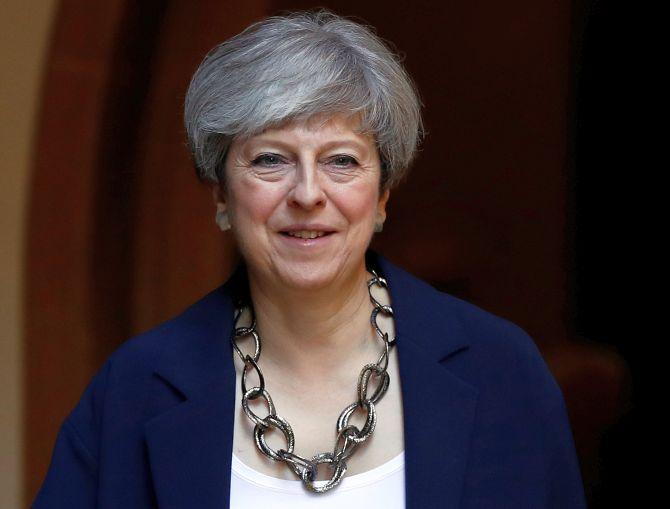 Patel holds on to her position as the senior-most Indian-origin Cabinet minister and will remain in charge as the secretary of state for international development in the new government, which May said will focus on delivering a successful Brexit.
The prime minister said the new line-up brought in "talent from across the whole of the Conservative party".
Her statement came after Michael Gove, one of the driving forces behind Brexit who had been relegated to the back benches after he vied for Tory leadership against May last July, returned to the front bench as environment secretary and one of May's close allies Green takes charge as first secretary of state, effectively her deputy prime minister.
"Crucially I've brought in talent from across the whole of the Conservative party. We want a country that works for everyone," she said in Downing Street.
May said she had appointed "a Cabinet that will get on with the job of government, which is about delivering successful Brexit negotiations. And those negotiations start in a week's time".
The prime minister had already confirmed on Friday, soon after the general election results were confirmed, that five of her top-most Cabinet posts will remain unchanged -- including Philip Hammond as Chancellor of the Exchequer, Amber Rudd as home secretary, Boris Johnson as foreign secretary, David Davis as Brexit secretary, and Michael Fallon in charge of the ministry of defence.
The remaining Cabinet posts are set for a reshuffle from her previous administration, with key announcements.
Greg Clark holds on to his job as secretary of state for business, energy and industrial strategy and David Gauke takes over as work and pensions minister.
Liam Fox stays in his post as Secretary of State for international trade, while Justine Greening has been re-confirmed as Secretary of State for Education. She additionally gets the portfolio as minister for women and equalities.
Liz Truss appointed chief secretary to the treasury, with right to attend Cabinet and Pakistani-origin Sajid Javid keeps hold of his post as secretary of state for communities and local government.
David Lidington takes charge as Lord Chancellor and justice minister and Alun Cairns as the new Secretary of State for Wales.
She has also kept Jeremy Hunt in his post as health secretary, Gavin Williamson is the new party Chief Whip or parliamentary secretary to the Treasury and Chris Grayling has been appointed transport minister.
The other key Cabinet members include James Brokenshire as Northern Ireland minister, Karen Bradley as culture, media and sports minister and Andrea Leadsom as the Leader of the House of Commons.
The new Cabinet appointments will be seen as May's attempt at surrounding herself with as many allies as possible against the backdrop of a brewing rebellion within party ranks after the Conservatives suffered heavy losses in the June 8 general election.
Far from a forecast landslide majority, May has been left holding on to 10 Downing Street with diminished authority having lost her party its majority.
Photograph: Stefan Wermuth.Reuters