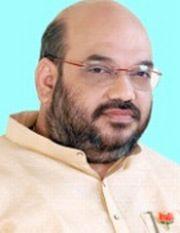 The intriguing Sohrabuddin Sheikh encounter case now involves two former home ministers of two states, the state police of Gujarat and Rajasthan and casts an ominous shadow on the Narendra Modi government.
Vicky Nanjappa reports.
Gulab Chand Kataria is the second high profile political personality to be named in the Sohrabuddin Sheikh encounter case.
Rajasthan's former home minister and senior Bharatiya Janata Party leader finds himself in the charge-sheet filed by the Central Bureau of Investigation.
The case
Sohrabuddin Sheikh, a gangster, sought to expand his extortion racket to Rajasthan from Gujarat, where he was active.
Sheikh made a demand of Rs 24 lakh (Rs 2.4 million) as protection money to Vimal Patni, director, R K Marbles, who was threatened with dire consequences if the money was not handed over.
According to the investigation, Patni, who was fed up with Sheikh's threats, met with Kataria, who he knew well, and sought the minister's help.
Kataria is alleged to have introduced Patni to Amit Shah, Gujarat's then minister of state for home.
The extent of Kataria's involvement in the encounter case is still being probed by the CBI.
The initial report, which was prepared under Gujarat police Criminal Investigation Department chief Geetha Johri's supervision, mentions a Rajasthan police link in the case.
R K Marbles is based in Kishangarh, Rajasthan.
Sheikh had become a nuisance in the Kishangarh area which has a booming marble business.
The Gujarat police claimed Sheikh was fired upon after he opened fire on the police team trying to apprehend him.
The Johri report does not mention Kataria, but names several Rajasthan police officers. The CBI believes the Kataria link activated the Rajasthan police in the case.
On November 24, 2005, Rajasthan police officers Dinesh M N, then the superintendent of police, Udaipur; Abdul Rehman, an inspector; Sub-inspectors Himanshu Singh, and Shyam Singh met D G Vanzara, then the deputy inspector general, (operations) of the Gujarat Anti-Terrorism Squad, and other police officers and discussed Sheikh's activities.
Following this meeting, a team comprising Dinesh M N and Rajkumar Pandiyan, then superintendent of police, ATS, laid a trap for Sheikh between Narol and the Vishala toll naka on the outskirts of Ahmedabad.
On November 26, 2005, at around 5:30 pm, Sheikh arrived on a motorcycle and was identified by Inspector N H Dabhi who tried to capture him.
Sheikh, the Gujarat police say, opened fire at the police team and tried to escape.
The policemen then fired, injuring Sheikh who was taken to the civil hospital where he was declared dead.
CBI sources told Rediff.com that they have filed a supplementary charge-sheet and a lot remains to be probed.
The evidence at the moment suggests that Kataria was a link between Shah and Patni.
However, the Rajasthan police's involvement may suggest that Kataria may know more than what meets the eye and played more than the role of introducing Patni to Shah.
More details will emerge when the final chargesheet is filed, CBI agents point out.
Image: Gujarat's former minister of state for home Amit Shah, now a BJP national general secretary.