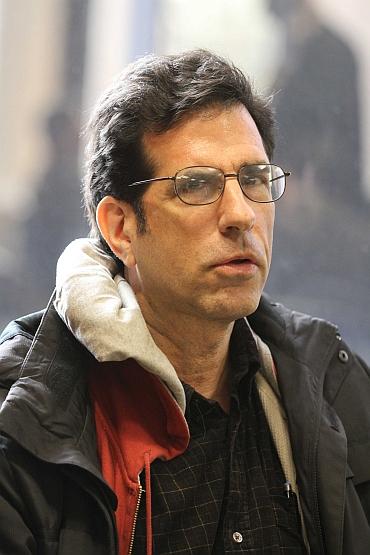 Soon after a Rutgers University student Tyler Clementi committed suicide jumping off from a bridge in New York in September 2010, the long time gay activist William Dobbs, who has been featured in several publications including The New York Times wrote a letter to The Chronicle of Higher Education. Rediff.com's Arthur J Pais talks to him
Dharun Ravi, 18, had been arrested for alleged spying on Clementi's tryst with an older gay man and had also been charged with a hate crime. Ravi's  friend Molly Wei was charged of being an accomplice but she entered a plea bargain with the prosecution and offered to testify against Ravi and was ordered to do many hours of community service and attend anti-gender and gay bias education. 
'…. Many questions, however, are raised by his death,' Dobbs mused in the letter: 'What led to it? Was it preventable? Did Rutgers University somehow fail him? There are also larger issues of youth suicide, bullying of virtual and real nature, and how to counter what is all too often a chilly climate for sexual-minority youth. Clementi's suicide is just one among a spate of gay young people who took their own lives recently.
'The media attention and public outrage have been swift, with loud clamoring for the heads of the two other Rutgers students whom popular sentiment holds responsible for the freshman's death. Though the pair have already been charged with felonies, that is not good enough for some. The statewide New Jersey gay organisation is demanding more serious charges and "the maximum possible sentence." Another gay group wants the two charged with manslaughter; that call is echoed by some 10,000 people on a social-networking site.'
The depth of this tragedy is not a licence to destroy individuals, to scrap due process and fairness, he argued and in the process angered many gay men and women, and others who were clamoring for swift punishment to.Ravi.
'Rutgers University ought to stand against prejudging this case or scapegoating anyone. That's the least it can teach its students, community, and the public. Others who know the dangers of vengeance should also speak out.'
Dobbs also pointed out that a small group of gay activists at Rutgers had felt that giving too much of attention to Ravi and Wei hid the larger picture. Under the banner of Justice Not Vengeance, the group Queering the Air held a rally and argued against ; 'the rush to judgment of Ravi and Wei, the racist and xenophobic vitriol used against them, as well as homophobia, transphobia, and lack of safety on campus and beyond.'
In a press statement the group asserted: 'Recognizing that homophobia is a concern that goes well beyond these two people and that our criminal justice system is historically biased against people of color, the group is using this occasion to draw attention to these larger issues.'
In an op-ed piece in The New York Times, Dobbs argued there is no need for new laws to deal with hate crimes.
'Existing criminal laws cover every victim, revered or reviled alike,' he wrote. 'Hate crime laws selectively recriminalize acts that are already crimes; crimes against certain victims are punished more severely, typically when bad words are in the mix. In the eyes of the law, one person's broken jaw becomes more important than another's.'
Seeking another pound of flesh has us veering toward vengeance rather than justice, he continued. 'While racism and homophobia, for example, are deplorable prejudices, social problems cannot be solved with more prison time. Combating hate crime will require changing public and police attitudes. Criminal laws long on the books, applied judiciously, are plenty; pushing for new legislation is a problematic approach.'
The following interview with Dobbs was conducted as the prosecution and defense rested their case and the final summation began on March 13.
Why do you think the prosecutors in this case have been overzealous and why do you feel the hate crime legislation has gone out of hand?
Tyler Clementi's suicide touched off a firestorm of media coverage -- local, national and international. Sensationalised early reports put in play the idea that Ravi and Wei (his friend at Rutgers who knew of the alleged Web spying) somehow caused Clementi's death. Much outrage ensued and quickly the pair were indicted on felony invasion of privacy charges.
The rush to judgment continued with demands by gay organisations and others for even more serious charges despite the fact that a full investigation had not been done. Amid all this, the county prosecutor brought a second indictment against Ravi with a long list of charges.
Clementi's suicide remains a riddle and haunts the case; Ravi is not charged with the death. If Clementi was alive it is hard to imagine this incident would have gotten so much attention by the criminal justice system.
Ravi also faces bias intimidation charges which have drawn criticism because there's no violence involved. The charges have enabled Ravi to be put on trial not just for alleged misdeeds but also for his beliefs and character.
While such laws have become commonplace in the United States, as prosecutions mount problems are emerging; hate crime statutes compromise cherished principles of constitutional law.
You have also said you believe Ravi and Clementi are both victims of culture clash Please elaborate on this.
Before their names hit the news, both were promising high school graduates headed off to college where they were randomly assigned to be roommates. The internet played a big role in their lives. Ravi's virtual world extended his real one.
Clementi, however, built a parallel and somewhat underground virtual world because he was gay. In the 21st century United States, it is still a challenge for gay/lesbian/bi/trans youth to find support, to find their own kind.  Families, schools, religious institutions, universities -- all deserve scrutiny about Gay, Lesbian, Bisexual and Transgender issues.

You have been attending the trial almost every day. What are some of your most important observations?
The trial is an ordeal for the various parties but there may be a silver lining -- the public is learning more about this episode. The legal process, however, is not designed to get at the truth but only to determine if the defendant is guilty of the offenses charged. Homophobia has been mentioned frequently.
There's another side to this that should be mentioned. When word spread about the suicide, the campus quickly turned hostile to those thought to be responsible. Ugly racist and  xenophobic comments appeared on message boards, perhaps a reminder of how easily the social fabric can fray.
You also said that there are no winners in this case.
Two young men with hopes and dreams.  One is gone at a young age.  The other now with his life on hold indefinitely while legal wheels spin.
Image: William Dobbs
Photograph: Paresh Gandhi/Rediff.com