The first day and night of the 2016 Republican national convention is complete.
It started off on a high when the Republican presumptive nominee Donald Trump made a 'WWE-style entrance' to the tune 'We Are the Champions' by Queen. However, chaos quickly took over when protests broke out.
Then allegations of plagiarism emerged when Melania Trump happened to copy parts of her speech from the one Michelle Obama made at the 2008 Democrat convention. Read on...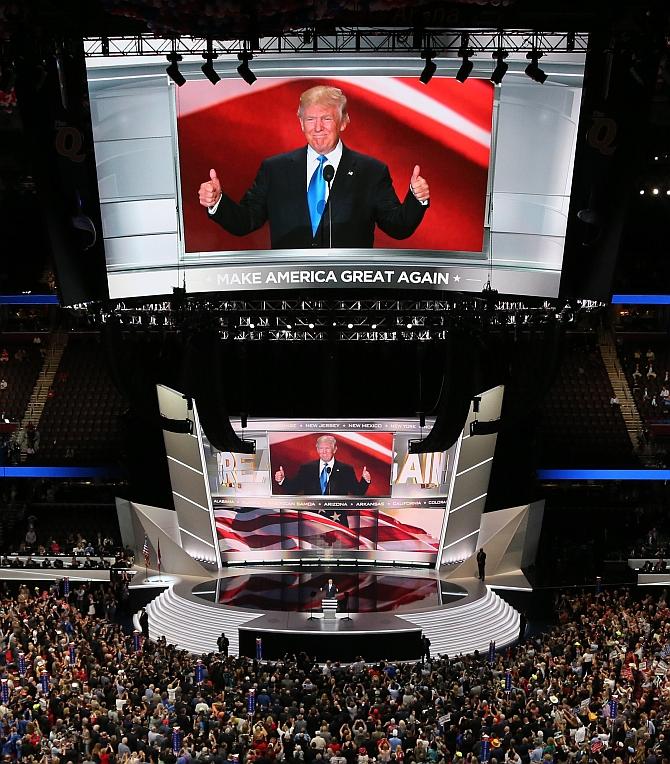 Open discord and revolt broke out on the floor during the opening session of the Republican National Convention in Cleve;and as delegates opposed to presumptive presidential candidate Donald Trump failed in their attempt to change party rules to block his nomination.
Several hundred anti-Trump delegates seeking to change the Convention rules so that they could opt out of voting for the real estate mogul roared their disapproval after being denied the chance to debate the changes or have a full vote on them.
Some of those opposed to 70-year-old Trump even walked out as simmering divisions among thousands of Republican delegates spilled out into the open.
Members of the 'Never Trump' group alleged that they were bullied by the party leadership.
The party leadership denied the allegations and alleged that there was a purposeful move to create disturbance during the Convention. The interruption highlighted the divisions within the Republican Party as it struggles to unify behind Trump in the run-up to the November election against Democrat Hillary Clinton.
Anti-Trump Republicans -- outraged that their party will be led by a man who described Mexicans as rapists and advocated banning Muslims -- expressed fury when procedural machinations denied them a chance to register their discontent.
"We deserve to be heard, this is the people's convention!" said Diana Shores a delegate from Virginia, while pro-Trump delegates tried to drown out the rebels with shouts of "Shame! Shame!"
This was meant to be Trump's moment.
Trump makes a WWE-style entry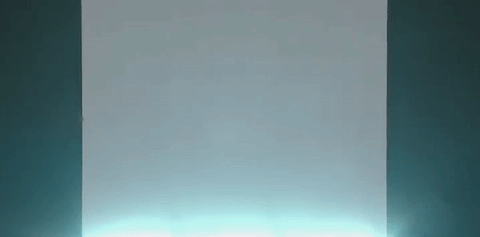 Donald Trump surely knows how to make a grand appearance. His WWE-style entry on stage triggered a boom on social media.
Trump emerged from the background in a cloud of fog backlit by blinding lights and the loudspeakers blaring "We Are The Champions" by Queen.
Nominees don't usually appear on stage on the first day of national conventions. And Trump's grandiose entrance wasn't even to his own speech -- it was merely to introduce his wife.
"Oh, we are gonna win. We're gonna win so big," Trump was quoted as saying by USA today.
Melania shows Trump's softer side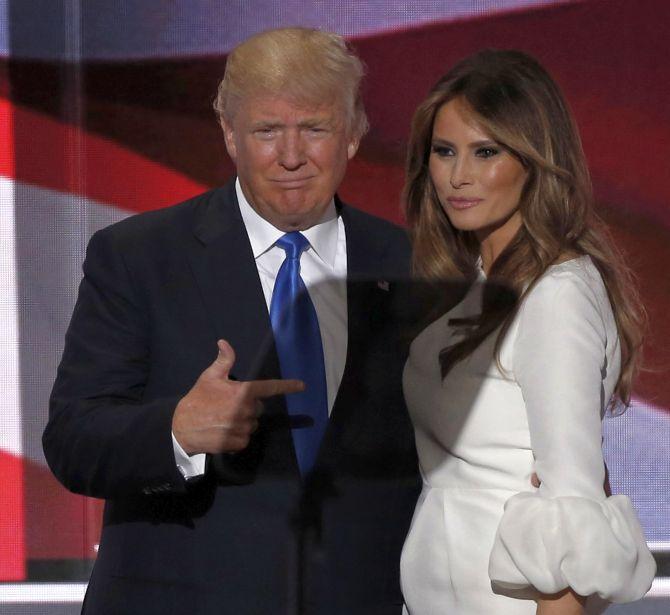 IMAGE: She's the man! Republican US presidential candidate Donald Trump gestures at his wife Melania after her speech at the Republican National Convention in Cleveland, Ohio. Photograph: Mike Segar/Reuters
While Trump may have stolen her thunder, Melania managed to hold her ground.
In her remarks, Slovenian-born Melania said: "If you want someone to fight for you and your country, I can assure you, he is the guy."
Her speech displayed Trump's softer side, oft shielded and secret from the press that constantly follow him.
And while her words did little to add to the image of the brash billionaire poised to officially become the Republican standard bearer, Monday's speech painted a more vivid picture of the woman who stands by the that billionaire's side.
"Donald is intensely loyal to family, friends, employees, country. He has the utmost respect for his parents, Mary and Fred, to his sisters Maryanne and Elizabeth, to his brother, Robert, and to the memory of his late brother, Fred. His children have been cared for and mentored to the extent that even his advisers admit they're an amazing testament to who he is as a man and a father," she said
"He will never, ever give up. And most importantly, he will never ever let you down," she said. "Donald is, and always has been, an amazing leader. Now, he will go to work for you. His achievements speak for themselves."
"My husband offers a new direction, welcoming change, prosperity and greater cooperation."
"Donald intends to represent all the people, not just some of the people. That includes Christians and Jews and Muslims. It includes Hispanics and African Americans and Asians and the poor and the middle class. Throughout his career, Donald has successfully worked with people of many faiths and with many nations," she said.
Melania conceded that "the race will be hard fought, all the way to November, and that "there will be good times, and hard times."
But she laughed that it "would not be a Trump contest without excitement and drama."
Oops Melania!
Melania continued to dominate headlines much after she left the convention stage. However, it wasn't for how she spoke, but rather for what she spoke.
It soon emerged that Mrs Trump had prepared her speech "with a little help", which in this case turned out to be Democrat US President Barack Obama's wife Michelle Obama.
Melania plagiarized Michelle's speech to the Democratic National Convention in 2008.
This is what Melania said:
"From a young age, my parents impressed on me the values that you work hard for what you want in life, that your word is your bond and you do what you say and keep your promise, that you treat people with respect. They taught and showed me values and morals in their daily lives. That is a lesson that I continue to pass along to our son."
"And we need to pass those lessons on to the many generations to follow. Because we want our children in this nation to know that the only limit to your achievements is the strength of your dreams and your willingness to work for them."
And this is what Michelle said on August 25, 2008:
"And Barack and I were raised with so many of the same values: that you work hard for what you want in life; that your word is your bond and you do what you say you're going to do; that you treat people with dignity and respect, even if you don't know them, and even if you don't agree with them. And Barack and I set out to build lives guided by these values, and to pass them on to the next generation."
"Because we want our children -- and all children in this nation -- to know that the only limit to the height of your achievements is the reach of your dreams and your willingness to work for them."