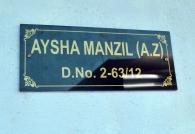 Ayesha Bano, who was detained at Mangalore airport on Tuesday morning, allegedly ran a hawala racket to sponsor terror strikes in India.
Ayesha, also known as 'Pakistan Boss', is a married woman with three children.
She allegedly ran the racket for her handlers in Pakistan.
Ayesha operated funds worth Rs one crore through 35 bank accounts via hawala channels, believe Indian intelligence agencies.
Ayesha, a resident of Mercara in Karnataka's Coorg district, converted to Islam after her marriage. She, along with her family, lived in Panjimogeru, nearly 6 km from Mangalore.
Her name was mentioned in the FIR on the Patna serial blasts, filed by the Lakhisarai police in Bihar district. Police believe she was involved with the funding activities behind the Patna serial blasts.
The hawala racket was being supervised by one Ibrahim, a suspected Inter Services Intelligence agent.
Investigators are yet to connect all the dots about how the racket was linked to the Indian Mujahideen operatives who carried out the blasts.
After scrutinising the transactions made by Ayesha Bano, security agencies have realised that money passed through various channels electronically, not manually.
Four young men opened the first bank account in Pakistan, which was then taken over by another group of men in India.
According to preliminary investigations, Ayesha had access to all the accounts. She gradually withdrew money from these accounts and deposited them in others.
When intelligence sleuths visited her house today morning, it was found deserted. She was later arrested at Mangalore airport.