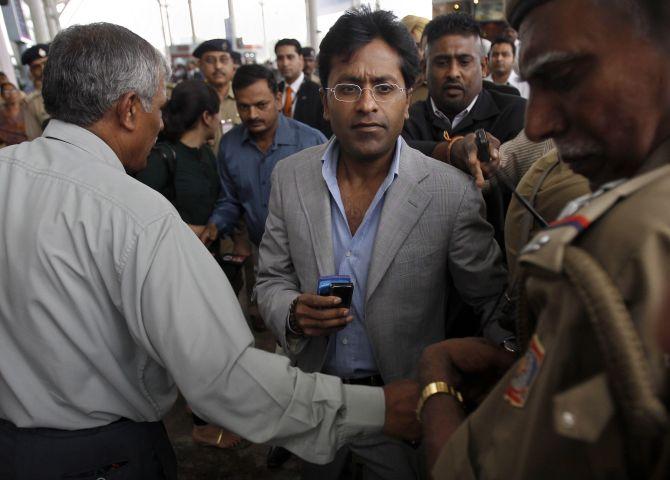 Lalit Modi has received 16 showcause notices from the Enforcement Directorate for alleged violations of the Foreign Exchange Management Act. Of these, 15 were issued under the United Progressive Alliance government and one was issued by the current regime in January 2015.
Eleven of these notices were issued in February 2011 and came in the matter of various transactions that were executed in the process of organising the second edition of the Indian Premier League in South Africa. Modi has put all these notices and his responses to these on his website lalitmodi.com.
We take a closer look at these.
IPL- II in South Africa

Due to the general elections in 2009, the Indian government refused permission for the tournament to be held in India citing security issues. However, IPL led by Modi quickly roped in Cricket South Africa, the Board of Control for Cricket in India's counterpart in the African nation, to conduct the tournament. BCCI and CSA inked an agreement on March 30, 2009 and floated an entity called IPL (SA) Pty Ltd.
ED has found that this entity did not render any service or engaged in any trade and was floated for the purpose of opening a bank account in that country. It was acting as an offshore account of BCCI by receiving all payments and settling dues. The ED has found that this entity and its various actions including opening bank accounts and transactions therein to be violative of FEMA as none of these had the approval of the Reserve Bank of India. Three of these eleven showcauses relate to IPL (SA) Pty Ltd.
Seven show causes relate to BCCI's transactions with CSA itself, two which relate irregular transactions conducted in Exchange Earners foreign currency accounts of BCCI. The eleventh show cause relates to payment of Rs 231 crore made to various people in South Africa during the tournament. The total value of these 11 show cause notices amount to Rs 1317 crore.
All these 11 notices are addressed to eight respondents. Apart from Modi and BCCI, Shashank Manohar, then President, BCCI; N Srinivasan, then Secretary BCCI; MP Pandove, treasurer, BCCI; Ratnakar Shetty, CEO, BCCI; Prasanna Kannan, manager, IPL; Sunder Raman, COO, IPL, are also addressed.
Consultancy

One showcause was on hiring the international sports management agency IMG. Modi had taken the help of IMG while the tournament was still in the conceptual stage. The MOU between IMG and BCCI was inked as early as September 2007 and there were subsequent agreements in 2009 and 2010. ED has found irregularities 12 payments totaling Rs 88.48 crore made to IMG between May 24, 2008 and November 12, 2010. Five of these remittances were in dollar while others were in British pound. BCCI, Modi, Srinivasan, Pandove, State Bank of Travancore and its chief manager are respondents.

Guarantees to foreign players

IPL gave guarantees to foreign players taking part in the tournament of a certain base fee, retainer fee and player's fee. These guarantees would be invoked by players as and when these players fail to get picked by teams in the player auctions. ED has that such guarantee totaling Rs 105.94 crore was allegedly given without any general or specific permission from RBI. Niranjan Shah, then Secretary of BCCI is the third respondent in this case beside Modi and BCCI.

Telecast rights, etc

Two notices issued in August 2012 relate to deposits received by BCCI from firms based in UK and Singapore. BCCI allegedly received performance deposits of Rs 20 crore and Rs 40 crore for grant of 'media rights' from Emerging Media (IPL) UK and MSM Satellite Singapore, respectively.
ED says these were illegal as RBI permission was not acquired. BCCI, Shah and Srinivasan are co-respondents. The third one, which came in January 2015, was BCCI's dealing with the broadcaster Sony and World Services Group.
ED alleged that the deal between BCCI, MSM Satellite and WSG which provided for a 'facilitation fee' of Rs 425 crore was in nature of "entering into a financial transaction in India as consideration for creation of assets outside India" and violated FEMA. The complaint was against BCCI, Modi, Srinivasan, Sundar Raman and several executives of WSG and MSM.

Modi's defence

Most BCCI office bearers including Srinivasan, Shah and executives of various private firms have appeared before ED and their submissions have been recorded and taken into account in these show cause notices. Modi himself has submitted his responses through his Mumbai-based law firm Wadia, Ghandy and company.
Modi's defence is on the lines that in each of these show cause notices, he was being charged under section 42(1) of the act, which related to vicarious liability. He has contended in his responses that he was not individually responsible but its BCCI and its committees and councils that took these decisions collectively. He has also alleged that despite his several requests, he was not allowed inspection of documents and replies of other respondents. Reports have said that ED has concluded its adjudication process on these notices and is likely to issue penalty notices soon.