Did the fear of central agencies probing scams involving NCP leaders that forced these politicians to jump ship?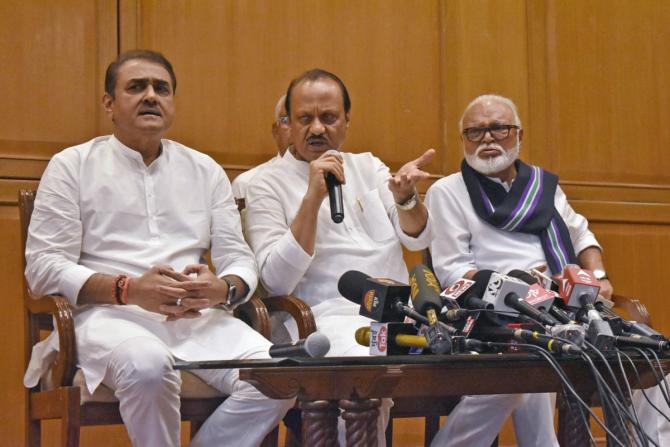 'Na Khaunga, Na Khaane Doonga (Won't be corrupt, won't allow others to be corrupt)' Narendra D Modi declared after he became India's prime minster in 2014.
Cut to a few days ago. Modi told Bharatiya Janata Party workers that the Nationalist Congress Party was a corruption-ridden party.
'There are allegations of scams of nearly Rs 70,000 crore against NCP,' Modi said.
Within days of this speech, NCP leaders joined the Maharashtra government led by Shiv Sena leader Eknath Shinde and Bharatiya Janata Party leader Devendra Fadnavis.
Most agree that it is the fear of central agencies probing scams involving NCP leaders that forced these politicians to jump ship.
The cases in which NCP leaders are under the lens of central and state agencies:
Ajit Pawar
Irrigation Scam
This was one of the major election issues which Fadnavis highlighted at his election rallies before the 2019 assembly poll.
A petition filed by the NGO Janmanch in 2016 made Ajit Pawar (who was water resources minister in 2012) a respondent in the case.
The allegation against Ajit Pawar was that he awarded projects at inflated prices, causing a loss to the exchequer of Rs 70,000 crores (Rs 700 billion).
He was given a clean chit by Maharashtra's Anti Corruption Bureau in the case after the Uddhav Thackeray-led Maharashtra Vikas Aghadi government took charge. Ajit Pawar was the state deputy chief minister.
In May 2020, the Enforcement Directorate started an investigation pertaining to money-laundering in the case, but three years down the line it has gone nowhere.
Maharashtra State Cooperative Bank Scam
The Enforcement Directorate filed a chargesheet against the Jarandeshwar Cooperative Sugar Mill linked to Ajit Pawar and his wife Sunetra in April 2023.
The chargesheet did not mention Pawar and his wife.
It was then believed that an additional chargesheet including their names would be filed by the ED, but that too never happened.
In its chargesheet, the ED alleged financial irregularities at the Maharashtra State Cooperative Bank; the Jarandeshwar Sugar Mill obtained loans worth Rs 826 crore (Rs 8.26 billion) from the bank, of which Rs 487 crore (Rs 4.87 billion) was still outstanding, it pointed out.
Ajit Pawar and his wife's names were linked to the case because the Jarandeshwar Sugar Mill was owned by companies which had links to the couple.
April 2023, when the ED chargesheet was filed without his name, was when the rumour mills were agog that Ajit Pawar was all set to break ties with the NCP.
Chhagan Bhujbal
Maharashtra Sadan Scam
Two years is a long period for an elderly politician to be in jail, and Chhagan Bhujbal -- then 69 -- did time from 2016 to 2018 in a case dating back to 2006 when the Maharashtra government gave out the contract to build a new Maharashtra Sadan in New Delhi, when Bhujbal was the state public works department minister.
It was alleged by the prosecution that no tenders were invited and the contract was given to Chamankar Enterprises.
Bhujbal denied any wrongdoing and stated that the decision to award the contract to Chamankar Enterprises was taken by the cabinet sub-committee on infrastructure, led by the then chief minister Vilasrao Deshmukh.
The courts discharged Bhujbal in the case in September 2021.
Ironically, it was Fadnavis and his BJP colleague Kirit Somaiya who had pursued the case against Bhujbal when they were in the Opposition and later on while in power.
After Sunday's swearing-in ceremony Bhujbal told a press conference, 'It is being said that we have joined the government because of the cases against us, but there is no case against Ajit dada and the most significant case against me is closed.'
Hasan Mushrif
Sar Senapati Santaji Ghorpade Sugar Factory Scam
If there was one Nationalist Congress Party leader who was facing imminent arrest, it was Hasan Mushrif.
The Enforcement Directorate had found irregularities in the functioning of the Sar Senapati Santaji Ghorpade Sugar Factory Limited and other companies linked to Hasan Mushrif and his family.
His anticipatory bail petition was rejected in April and it looked like he would be soon accompanying Nawab Malik, another NCP leader, in jail.
In his defence, Mushrif said that the case against him was a motivated conspiracy.
BJP leader Kirit Somaiya in one of his tweets alleged that Hasan Mushrif and his family were involved in a Rs 158 crore (Rs 1.58 billion) fraud.
After Mushrif joined the Shiv Sena-BJP government as minister, Somaiya has gone silent, and one wonders what the ED will do next in this case.
Sunil Tatkare
Maharashtra Irrigation Scam
Though Sunil Tatkare is not part of the Sena-BJP government, his daughter Aditi took oath as a minister on Sunday.
Sunil Tatkare's name cropped up in the Kondhane dam project near the Ulhas river when he was irrigation minister in the Congress-NCP government (2009-2014).
Considered a close aide of NCP Founder and President Sharad Pawar, he surprised political pundits when he won the 2019 Lok Sabha election from Raigad even as Maharashtra was swept by the Modi wave.
Sharad Pawar expelled Tatkare from the NCP on Monday.
Praful Patel
Ceejay House Scam
In February 2023, the Enforcement Directorate attached Praful Patel's property, Ceejay House in Worli, south central Mumbai, in the Iqbal Mirchi case.
Iqbal Mirchi was an underworld figure and the ED's case was that Praful Patel had dealings with him while he developed Ceejay House.
Praful Patel categorically denied any wrongdoing or links with the Mirchi family and said all his dealings were legitimate.
The case is still on.
Aviation Scam
The Enforcement Directorate's case against Praful Patel was that he connived with corporate lobbyist Deepak Talwar in negotiations with foreign airlines, causing loss to Air India.
Patel was the aviation minister in the Manmohan Singh government.
The ED had told courts that there was e-mail evidence to prove the link between Patel and Talwar which led to the latter's arrest.
Talwar is currently out on bail in the case.
Last month, the Central Bureau of Investigation filed a chargesheet against Talwar, accusing him of diverting funds under the Foreign Contributions (Regulation) Act.