Indian Navy's new destroyer, Visakhapatnam, with enhanced capability to operate in nuclear, biological and chemical atmosphere, will be launched in Mumbai on Monday.
The ship is the first of the four follow follow-up order of the Kolkata class warships and will give a major fillip to India's maritime capabilities when it is inducted in 2018.
Ahead of its launch, here are a few facts about the stealth destroyer.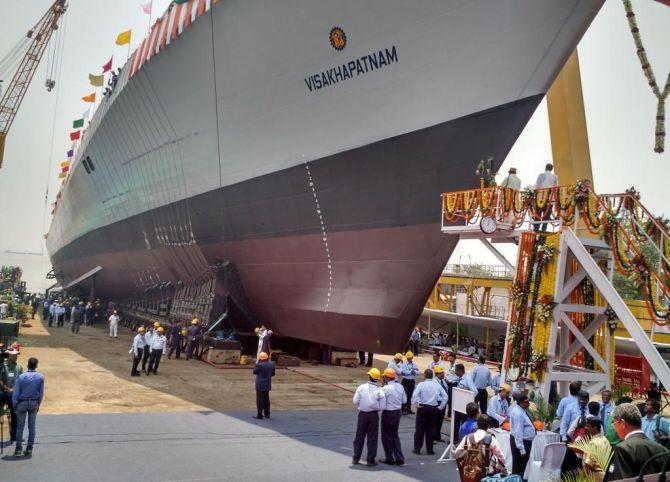 1) The ship, named Visakhapatnam (Project 15 B), a stealth destroyer, is 65 per cent indigenous and has a number of weapon systems which have been made at home.
2) At 7,300 tonnes, Visakhapatnam will be the largest destroyer commissioned by the Indian Navy and will be equipped with the Israeli Multi Function Surveillance Threat Alert Radar.
3) The ship will be carrying 8 BrahMos missiles.
4) Navy officials said the Visakhapatnam is likely to be inducted in the Indian Navy by 2018.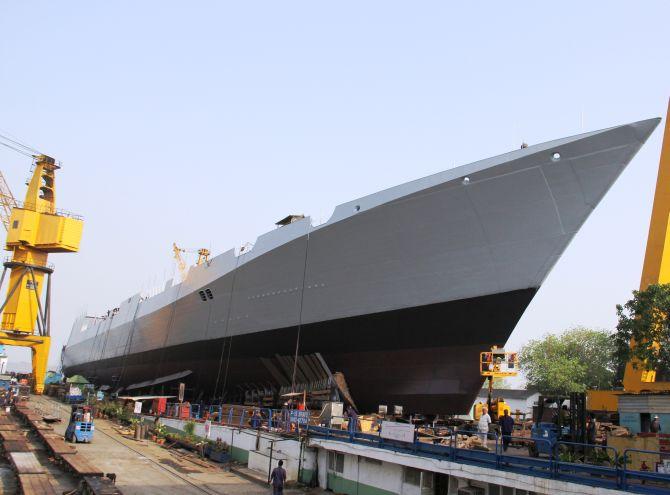 5) The Visakhapatnam will be armed with a 127 mm main gun while the INS Kolkata has a 76mm Super Rapid Gun Mount.
6) She is equipped with a Ship Data Network, an Automatic Power Management System and a Combat Management System. Essentially, all information critical for the operation of the warship during all operations is available to key officers through the SDN which the Navy describes as a data information highway.
7) These ships are amongst the most technologically advanced Guided Missile Destroyers of the world, with state of the art weapon/sensor package, advanced stealth features and a high degree of automation.
8) With a displacement of 7,300 tonnes, each ship will be spanning 163 metres in length and 17.4 meters at the beam. It will be propelled by four gas turbines in Combined Gas and Gas configuration.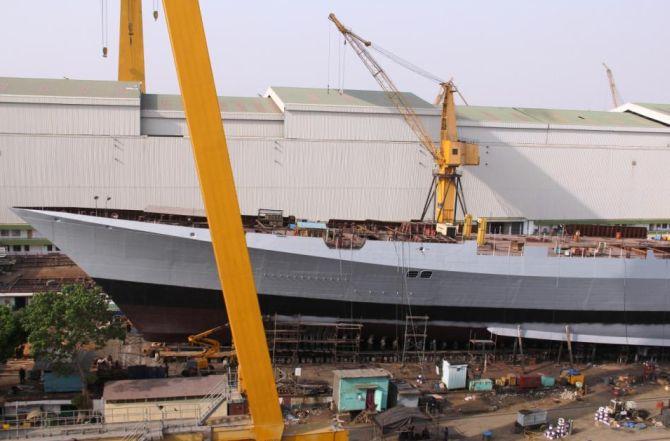 9) The ships are capable of achieving speeds in excess of 30 knots and have maximum endurance of 4000 nm at economical speed of 14 knots.
10) The destroyers incorporate new design concepts for improved survivability, sea keeping, stealth and ship manoeuvrability. These ships will be equipped to carry and operate two multiple role helicopters.
11) These ships have been designed for a complement of 50 officers and 250 sailors.
12) The ship's fire power consists of sophisticated weapons-sensor suite including vertically launch capable Surface to Air and Surface-to-Surface Missiles for long distance engagement of shore and sea based targets.