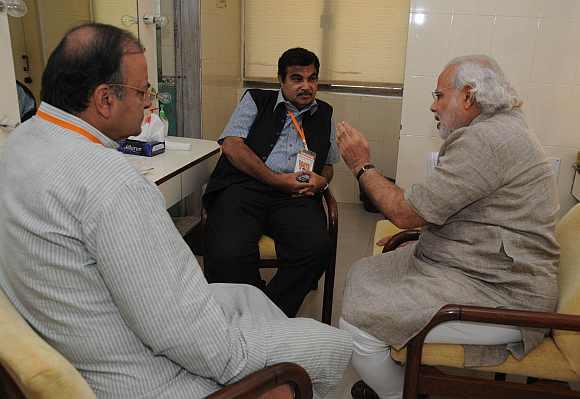 POWER TRIO: Narerndra Modi with Nitin Gadkari and Arun Jaitley.
Nitin Gadkari is the rising star, Arun Jaitley commands respect while minister of state Dharmendra Pradhan seems to be the PM's new favourite.
Who among the Union Council of Ministers is closest to Prime Minister Narendra Modi?
The answer is, three tall leaders.
It's not just the business houses or industry circles who want to know who is closest to the prime minister, but even journalistic circles. The New Delhi grapevine is forever buzzing with the question, and also speculating dizzily over the answer.
The truthful answer to the question must add the caveat that it is rather like a weather report. In other words, akin to asking when it will rain and when it will shine.
Just as the answer changes with the passing of time and the seasons, so does the answer to the question exercising Lutyens' occupants. So you will find that Home Minister Rajnath Singh is not in the thick of it anymore, never mind he is leading a valiant effort to sort out the Kashmir mess. Nor is Urban Development Minister M Venkaiah Naidu, for that matter.
The one constant the prime minister has paid heed to since assuming office in May 2014 is Finance Minister Arun Jaitley, considered the tallest among the ministers. In fact, before considering any solution to the problems confronting him, Prime Minister Modi is said to first consult Jaitley, with who his ties go back a long way.
But when it comes to political manoeuvrings, Modi resorts to Nitin Gadkari, especially using his proximity to the RSS leadership to serve as a bridge between Nagpur and the PMO. Whenever the RSS tries hard to breathe down his neck, it is Gadkari that Modi relies on to send a tough message to the RSS leadership, trusting him to effectively communicate his thoughts in the correct spirit.
Thus, Gadkari is the emerging star in New Delhi's political firmament.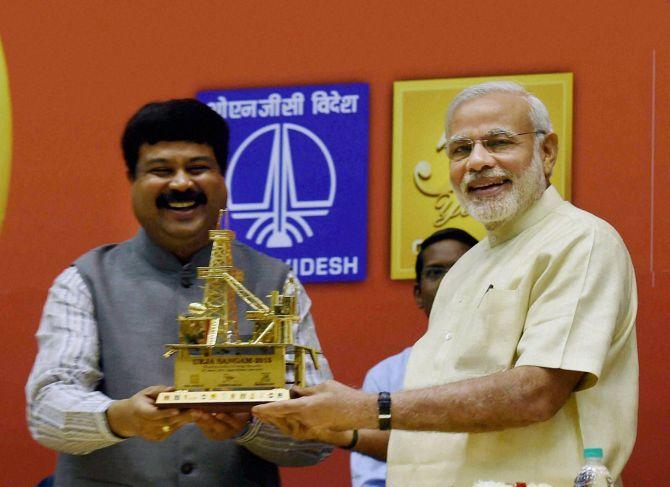 NEW STAR: Dharmendra Pradhan with Modi.
The third name may surprise many, but it is minister of state for petroleum and natural gas (independent charge) Dharmendra Pradhan who is often been quoted as being close to the powers that be.
MoS for commerce and industry Nirmala Sitharaman is also considered effective in articulating the government's basic developmental policy issues with industry and business houses, but it is Pradhan who is clearly ahead from among the MoSes.