On Tuesday, the CBI raided the office of Delhi Chief Minister Arvind Kejriwal's Principal Secretary Rajender Kumar, triggering a war of words between the Aam Aadmi Party-led state government and the Centre.
While Kejriwal declared the raid was an attack by the Centre, the CBI clarified it was acting on a corruption complaint made by Ashish Joshi against Rajender Kumar.
Syed Firdaus Ashraf/Rediff.com unearths all you need to know about the case and the man behind the drama.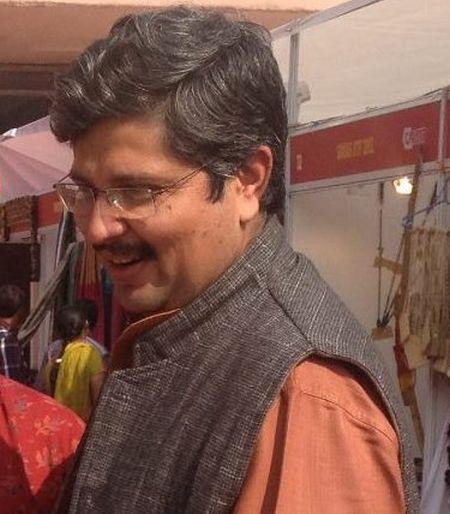 IMAGE: Ashish Joshi filed the complaint gainst Rajender Kumar. Photograph: Kind courtesy Facebook
What are the origins of the Central Bureau of Investigation raid on Arvind Kejriwal's office?
Ashish Joshi, a senior bureaucrat and a former member-secretary of the Delhi Dialogue Commission in June after being dismissed by the Arvind Kejriwal government wrote to Anti-Corruption Branch chief Mukesh Kumar Meena, alleging that Rajender Kumar, as director of education (from May 2002 to February 2005) and later secretary (IT), secretary (health) and commissioner (VAT), had allegedly set up various companies to award work orders of these departments without tenders which caused 'financial loss' to the government.
Joshi also alleged that when Kumar was posted as secretary (IT), he got his company empanelled with a PSU, so it could be awarded work without tenders. 'Work up to Rs 50 crore was done through this company,' Joshi alleged.
Who is Ashish Joshi?
He worked in the ministry of minority affairs from 2006 to 2011. He then worked as principal director (Government Accounting Standards Advisory Board, India); deputy director general (ministry of communications and IT), member (Finance), Delhi Urban Shelter Improvement Board; deputy director general (department of telecom).
In April, Joshi, who was working at the Delhi Urban Shelter Improvement Board, was asked to leave the Delhi Dialogue Commission by the Aam Aadmi Party government.
What was the reason for Joshi's exit?
Apparently, AAP leader and former journalist Ashish Khetan, the vice-chairman of the Delhi Dialogue Commission, asked Joshi to quit after he allegedly refused to appoint six AAP volunteers as coordinators of different task forces set up under the Commission.
What did Joshi do then?
Soon after, Joshi accused Kejriwal's Principal Secretary Rajender Kumar of corrupt practices related to the information technology sector in a complaint to Joint Commissioner of Police (Anti-Corruption Branch) M K Meena on June 16.
He alleged that his knowledge of Kumar's corruption triggered his abrupt repatriation by the Delhi government based on allegations of 'misconduct and misbehaviour.'
He alleged that Rajender Kumar got IT-related work and SAP licences for more than Rs 50 crore (Rs 500 million) through companies which had his relatives as directors.
What does Joshi's complaint allege?
Joshi asked Meena to probe Kumar's role when he was with the Delhi government's departments of education, IT and health.
He also alleged in his complaint that Rajender Kumar formed a company Endeavors Systems Private Ltd. In 2007, he became secretary (IT). During this period, he got this company empanelled with a PSU to get government work without tenders.
Is Joshi clean and honest?
The Delhi government's Anti-Corruption Branch received a complaint against Joshi that he had allegedly misused funds allocated to the Delhi Urban Improvement Shelter Board from the Centre for Holistic Development, an NGO that works for homeless people.
One complainant, Sunil Kumar Aledia, accused Joshi of misappropriating funds of Rs 12 crore (Rs 120 million) in one financial year. Aledia further alleged in his complaint that an estimated 20,000 blankets, sheets and other provisions were procured at double the price from the market while tea, which was supposed to be provided free of cost to those living in shelters for the homeless, was procured at Rs 9 per cup, which exceeded the sanctioned cost of Rs 4 per cup.
Who is Rajender Kumar?
Rajender Kumar, a 1989 IAS batch officer, was appointed as Kejriwal's principal secretary in February. He was also secretary to Kejriwal during his previous stint as CM. An IIT graduate, Kumar is known to enjoy a warm rapport with the chief minister who passed out of IIT-Kharagpur as a mechanical engineer in 1989.
Kindly note: Repeated attempts to contact the Aam Aadmi Party's Ashish Khetan went unanswered.