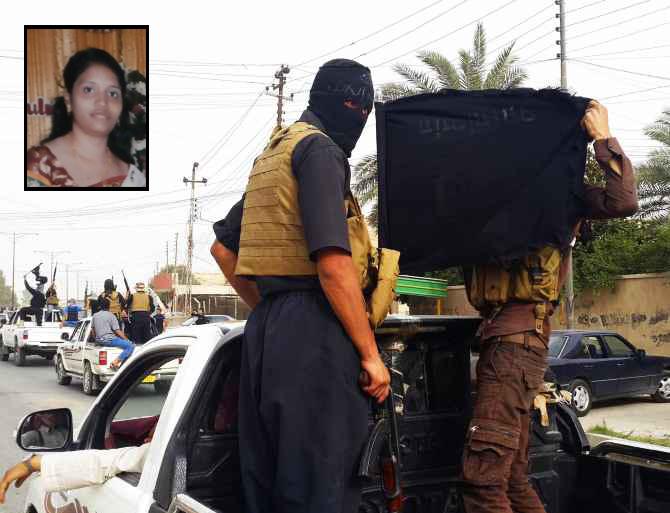 A Ganesh Nadar speaks to Lesima Jerose Monisha, one of the Indian nurses stranded in Iraq's Tikrit. Her mother in Tuticorin, Tamil Nadu, says, "The nurses are well-fed but they haven't received a single rupee as salary in four months, hope India will make the Iraqi government pay them."
The Indian embassy has been constantly in touch with us, they have told us to wait as we are safer inside the hospital. They are talking to all parties concerned and when they are assured of safe passage, we will be taken to the airport and flown back to India. But now the roads are blocked," Lesima Jerose Monisha, one of the 46 nurses stranded in an Iraqi hospital where the country's former president Saddam Hussain was born, in the besieged Iraqi city of Tikrit, tells this reporter over phone.
"We are not scared. We are working as usual. The militants who have taken over the city have not harmed us and they are not threatening us either," she adds. Brave words for a young girl of 25 who is stranded in a militant controlled city in a foreign country on her first trip abroad.
Among the 46 nurses stranded there, she is the only one from Tamil Nadu -- the rest are from Kerala. Lesima went to Iraq in February 17 this year. She graduated in nursing from a college in Bangalore, and then got called to Delhi where a senior had just gotten a job.
After eight months in Delhi, she came to know that a manpower consultant from Kerala was recruiting nurses for the Iraq government. She applied and got the job.
She then resigned from her Delhi job in January this year, and went to stay with her mother Edwija in Tuticorin, Tamil Nadu. Lesima's elder sister is married and lives one street away from her mother. After spending a month with them, she left for Iraq via Delhi.
"Earlier she used to talk to us on Skype, but now there is no internet connectivity in Tikrit and so she cannot do that anymore," says her brother-in-law Janarthan.
"She calls sometimes from her mobile phone, but the connectivity is poor. But we may not even get those anymore," says Edwija.
"She doesn't know anything about what is happening in the rest of Iraq -- we tell her from what we see on TV," she says. "They (the nurses) are well-fed but they haven't received a single rupee as salary in four months.
"At first, the agent told us that the new nurses are always paid after three months. After that, he said that there was no money in the treasury. But later he assured us that her salary will be paid in full," says Edwija.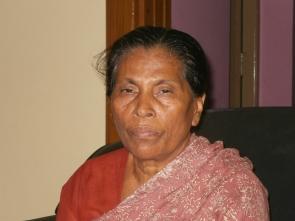 Her paternal aunt adds, "Lesima says most of the other nurses have refused to leave without their salary. All of them have taken loans to pay the agent for the job. She has a huge bank loan; plus we had to borrow money to send her there. How can they come back without money? I hope our government makes the Iraqi government pay their salaries before they are sent back," she says.
Lesima took a loan of Rs 3 lakh from the Punjab National Bank to pay for her nursing college fee, which is now repayable along with interest as Rs 4.67 lakh.
"Nobody told us that the interest would be added every month. All they said was that my daughter could pay back the amount after she gets a job. We thought the loan would be repaid in a year, and this is what happened," a distraught Edwija says.
"I cannot get her married; imagine entering your in-laws' home with a loan on your head. I am old now and cannot work. She is the only earning member of the family and I was so happy when she got a job in the Middle East," she adds.
"My elder daughter just had a baby. I am so glad that she lives close to me -- she and my son-in-law are a source of strength to me. I am praying for Lesima's speedy return," says the mother.
Image: ISIS fighters celebrate on vehicles taken from Iraqi security forces at a street in Mosul; (inset) Lesima Jerose Monisha. Image below: Lesima's mother Edwija.