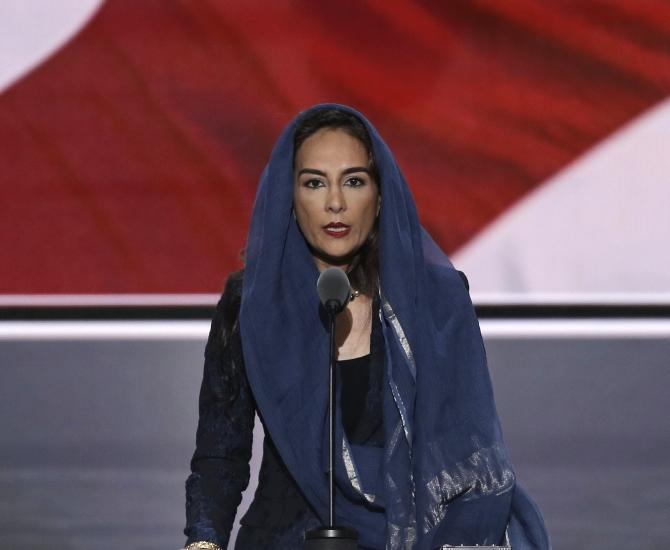 In a first for the Republican Party, a Sikh-American woman opened the second day of the national convention in Cleveland with the 'ardaas' -- a Sikh prayer.
Harmeet Dhillon, vice chairwoman of the California Republican Party, delivered the Sikh prayer on the national stage in Punjabi and then translated it into English.
It was the first such instance for the Republican National Convention but it was not the first time the 47-year-old San Francisco lawyer upended expectations, the Los Angeles Times reported.
Born in Chandigarh, she emigrated with her parents to England and then to the Bronx, New York. Her father, an orthopedic surgeon, soon moved the family to rural Smithfield in central North Carolina.
Taking the stage minutes before Donald Trump was officially nominated as the party's candidate for president, Dhillon led the convention in the Sikh prayer on Tuesday.
After the pledge of allegiance and the national anthem, Dhillon took the stage and explained that it was Sikh custom to wear a headscarf for the traditional prayer.
Dhillon, a delegate from San Francisco, covered her head with a shawl after stepping up to the podium.
"I've said this prayer before I could walk," she said.
The prayer -- called Ardaas -- is a Sikh prayer that is recited before performing or after undertaking any significant task. And Dhillon hoped her reading it would show that the Republican Party truly does have a big tent.
"I think this is an inclusive party. I've never felt anything but included since Day One," Dhillon was quoted as saying by The Mercury News.
Trump today clinched the Republican Party's presidential nomination to run against Democrat Hillary Clinton in the November polls, a stunning rise for an outsider after months of controversial campaigning that saw him crushing 16 well-established party rivals.
Diversity was showcased by the party in Cleveland as when California's Republicans formally proclaimed their support for Trump, the state party turned to Shirley Husar, who is black, to make the announcement.
IMAGE: Indian-born Sikh Republican activist Harmeet Dhillon delivers the invocation in Punjabi and English at the start of the second session at the Republican National Convention in Cleveland, Ohio.Photograph: Mike Segar/Reuters