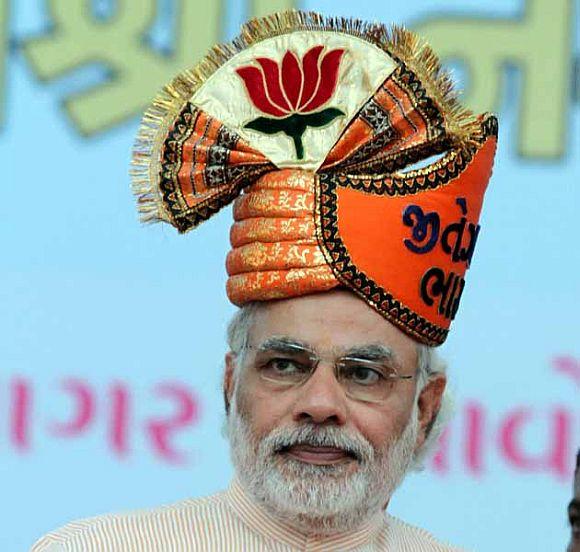 The long-delayed declaration that Gujarat Chief Minister Narendra Modi will be the Bharatiya Janata Party's candidate for prime minister had a certain air of inevitability about it. But the last-minute drama should not take away from the plain fact that, in naming Modi, the BJP has merely acknowledged that it has in him a politician of rare skill and charisma -- of a degree unseen in national politics perhaps since former prime minister Indira Gandhi.

It is a reflection of the organisational strength of the BJP and its parent, the Rashtriya Swayamsevak Sangh, that Modi is now the party's de facto head in spite of starting as a complete outsider to politics. So much does Modi dwarf his BJP contemporaries that the party already looks leaderless without him.
Thus, it is unsurprising that the party was forced to accept his leadership. Modi's elevation is also a reminder that the influence of the RSS is still powerful -- although none of its leaders, either, can compare to Modi in terms of political skills.
As a cadre-based organisation, the RSS has always been uncomfortable with the cult of personality around Modi, and their relations have been strained of late.
That it feels itself constrained to nevertheless drum up support for Modi in the BJP reveals that it feels it needs the BJP more than the BJP needs the RSS. Clearly, for the RSS, power comes before principle -- and it needs Modi to retain its power.
Modi's image is likely to dominate the national conversation going into the next general elections more so than any specific issue he may claim to espouse, given how vague his public pronouncements tend to be. Notably, however, he has made no concessions to secularism so far.
Since few can doubt he stands for a muscular, aggressive Hindu nationalism, he does not even need to reinforce that with explicit statements; his lieutenants, such as Amit Shah in Uttar Pradesh, can do that for him while he himself continues to talk of development. It will be up to his opponents in other parties to narrow the focus to specific questions of policy and implementation.
So far they seem unable to do so. Given the absence of such effort, Modi's skilful media management has allowed a misleading picture of exceptionalism to be built around the performance of the state that he leads -- useful, given the Congress-led government at the Centre is struggling with an image of non-performance.
Yet Modi has a hard task ahead of him. Whatever his personal popularity, the results of Indian elections are never a foregone conclusion. State-level issues dominate, and caste- and region-based parties stand to gain. The Congress' own vote has been remarkably resilient, and the focus of its government on rural incomes and growth might lead to an underestimation of its support -- something that has happened before previous elections.
Modi will need to parlay his image into seats for the BJP on an unprecedented scale, especially in Uttar Pradesh and Bihar. And even once he wins, he will face bigger challenges in New Delhi -- the need to build a strong team, learn to deal with state governments and allies, and to respect institutions.
However, given the image he brings with him from Gujarat, it is easy to predict that if he falls short, a drumbeat will be built up in the next elections demanding he be given a freer hand -- once again, a reminder of Indira Gandhi.