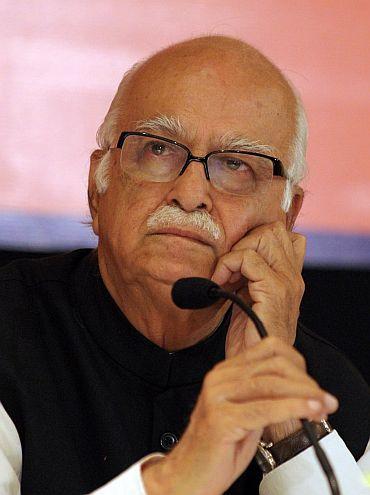 Bharatiya Janata Party leader L K Advani continued to sulk over the choice of Narendra Modi as the party's prime ministerial candidate even as party leaders, including Rajnath Singh and Sushma Swaraj, met him in an apparent bid to mollify him and later denied that the party patriarch is upset.
A day after he skipped the Parliamentary Board meeting which chose Modi as the party's PM candidate, Advani was closeted in his house. Swaraj, Ananth Kumar, Ravi Shankar Prasad and Balbir Punj met Advani to discuss Modi's elevation and his disappointment with Rajnath Singh's style of functioning.
Advani had written a letter to Singh expressing disapproval over his style of functioning. BJP President Rajnath Singh told reporters in Mumbai that as a patriarch Advani has every right to scold or admonish any party leader if he sees any shortcomings.
"I do not have the stature to reply to anything that Advani says," Singh said about Advani's letter. He said "Advani continues to be our leader, guardian and mentor. He has every right to be angry. I take cognizance of it and would try to address it. Where is the question of his isolation"?
Asked about Advani's stand after her meeting with him, Swaraj said "nobody is upset." Modi himself was the first to visit Advani after the Parliamentary Board decision on Friday. He spent 30 minutes with the leader.
Prasad also termed as "baseless" reports that Advani is unhappy. "I came to meet him. He is our seniormost leader, our guardian. We respect him. His blessings are always with us," he said after meeting Advani on Saturday evening.
However, sources maintained Advani is still upset over the decision. Meanwhile, Rashtriya Swayamsevak Sangh ideologue M G Vaidya defended Advani's right to dissent against the decision to make Modi the PM candidate even as he hailed the "democratic manner" in which the Gujarat chief minister was chosen by the Parliamentary Board.