Meet the set of political dynasts who contested on a BJP ticket from Maharashtra.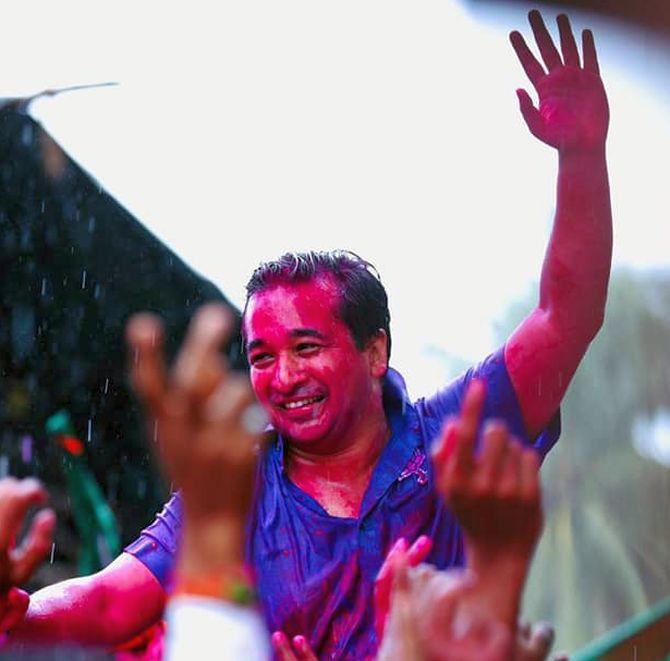 The Bharatiya Janata Party has taken plenty of digs at the Congress's dynastic politics, but as the Maharashtra elections have shown the BJP's own record in the matter is not lily white.
Syed Firdaus Ashraf/Rediff.com presents 10 dynasts of the BJP who have managed to get elected this time round.
Nitesh Narayan Rane
Son of former chief minister of Maharashtra Narayan Rane, Nitesh joined the BJP just before the elections.
Rane Senior was once a Shiv Sena strongman who joined the Congress party but later dumped that party too to become a Rajya Sabha member with the help of the BJP. He couldn't formally join the BJP thanks to the Shiv Sena's opposition to him.
Nitesh has won from Kankavli seat by margin of 28,116 against Shiv Sena candidate Satish Jagannath Sawant.
This is one of the rare seats where the BJP and Shiv Sena contested against each other because the Shiv Sena has not pardoned Rane after he dumped them for the Congress party.
Incidentally, Nitesh had won from the seat in 2014 on a Congress ticket.
Radhakrishna Vikhe Patil
The Vikhe Patils win in the Shirdi area of Maharashtra no matter which party they are aligned with.
Former Union minister the late Balasaheb Vikhe Patil, who was a Shiv Sena leader before shifting to the Congress party, tasted victory from his hometown of Shirdi in Ahmednagar district from whichever party he contested.
Just like his father, Radhakrishna Vikhe Patil too wins from whichever party he contests. He was the leader of opposition in 2014 and won with a huge margin on a Congress ticket from the Shirdi assembly seat.
This time he switched sides to the BJP and has again won from Shirdi.
Incidentally, his son Dr Sujay Vikhe Patil is a BJP MP from Ahmednagar.
Sunil Dattatraya Rane
Sunil is a BJP legislator from Borivli in Mumbai, and his nomination has an interesting background.
Vinod Tawde, former BJP legislator and minister, was a bête noire of Chief Minister Devendra Fadnavis who ensured that Tawde's name was dropped in ticket distribution, and gave Sunil the party ticket from Borivli.
Sunil is the son of Datta Rane, former BJP minister under Shiv Sena-BJP government headed by Chief Minister Narayan Rane in 1999.
Sunil has won by a margin of 95,021 against Congress candidate Kumar Khilare.
Namita Akshay Mundada
Namita is the daughter-in-law of late Vimaltai Mundada of the Nationalist Congress Party, who hailed from Kaij assembly segment.
Vimaltai passed away in 2012 after battling cancer, at the age of 49.
Namita has now won from the assembly segment which was once represented by her mother-in-law, but on a BJP ticket.
Namita has won by 28,928 votes against Pruthviraj Shivaji Sathe of the Nationalist Congress Party, of which her mother-in-law was member.
Akash Pandurang Fundkar
Akash's father Bhabusaheb Fundkar was an opposition leader in the Maharashtra legislative council and a former BJP Lok Sabha member from Akola.
Akash has won by 15,990 votes against Congress candidate Dnyaneshwar Purushottam Patil from Khamgaon.
Santosh Raosaheb Danve
Santosh's father Raosaheb Danve is a BJP Lok Sabha member from Jalna and is also a minister in the Narendra Modi government.
Before moving to the Centre Raosaheb Danve was the state chief of the BJP.
Santosh has won from the Bhokardan constituency against Chandrakant Pundlikrao Danwe by a margin of 32,490 votes.
Siddharth Anil Shirole
Siddharth's father Anil Shirole is former BJP member of Parliament from Pune constituency.
Anil Shirole was denied a ticket in the 2019 Lok Sabha elections and the honour went to Girish Bapat instead.
However, Anil's son Siddharth was given a BJP ticket from Shivaji Nagar in this assembly election.
Siddharth has won by 5,124 votes against Datta Bahirat of the Congress party.
Sambhaji Diliprao Patil Nilangekar
Sambhaji's mother Rupatai Patil was a member of Parliament from Latur.
She is the daughter-in-law of Shivajirao Patil Nilangekar, Congress chief minister from 1985-86, making Sambhaji a third generation political dynast.
Contesting on a BJP ticket, Sambhaji has won from Nilanga constituency by 32,131 votes defeating his nearest rival Ashokrao Shivajirao Patil Nilangekar of the Congress.
Shivendrasinh Abhaysinhraje Bhonsle
Shivendrasinh is the son of former MLA Abhaya Raje Bhonsle.
Udayanraje Bhonsle, who won the Satara Lok Sabha seat on an NCP ticket in 2019 but crossed over to the BJP but was defeated in the by-election caused by his crossing over, is a cousin of Shivendrasinh.
The BJP's Shivendrasinh defeated Deepak Sahebrao Pawar of the Nationalist Congress Party from Satara assembly constituency by 40,289 votes.
Prashant Ramsheth Thakur
Prashant is the son of Ramsheth Thakur, who was a Peasants and Workers Party member of Parliament from Kulaba constituency before joining the Indian National Congress.
Ramsheth and his son Prashant quit the Congress party to join the BJP in 2014.
Prashant has won the Panvel assembly seat by 92,730 votes against Haresh Manohar Keni -- of the Peasants and Workers Party.