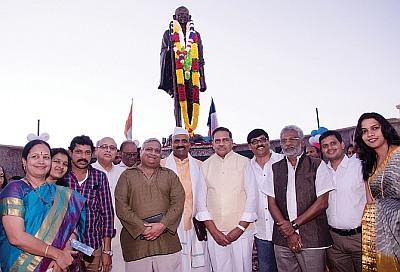 On the 145th birth anniversary of Mahatma Gandhi, Irving city in Texas, United States became the sixth town in the country to install a Gandhi statue.
Satish Dhupelia, a great grandson of Mahatma Gandhi, unveiled the Mahatma Gandhi Memorial Plaza at the Jefferson Park, October 2.
'This memorial will be a prominent landmark, great pride and honour for the Dallas Fort Worth community and will be an inspiration for our coming generations,' said Dr Prasad Thotakura, chair, Mahatma Gandhi Memorial of North Texas, which installed the statue.
The project was conceived by leaders of the Indian American Friendship Council and the India Association of North Texas in 2010.
'Getting the approval of the city was a laborious process as we had to convince them of the relevance of it,' Dr Thotakura said.
The statue was sculpted by Burra Varaprasad and K Prasada Rao, who travelled from Andhra Pradesh for the project, which cost about $700,000.
'MGMNT's vision of this memorial will be an inspiration to all generations,' Dhupelia said.
Reverend Jerome LeDoux, representing Dr Martin Luther King Junior's family; Irving Mayor Beth Van Duyne, Consul General of India in Houston P Harish, D Prasad Gollanapalli from the Sabarmati Ashram in Gujarat and Mandali Buddha Prasad, deputy speaker of the Andhra Pradesh legislative assembly, were among those who attended the event.
The MGMNT team presented the Jewel of India award to Dr Thotakura for his vision and commitment for the project.
A Gandhi Peace Walk was organized October 4.