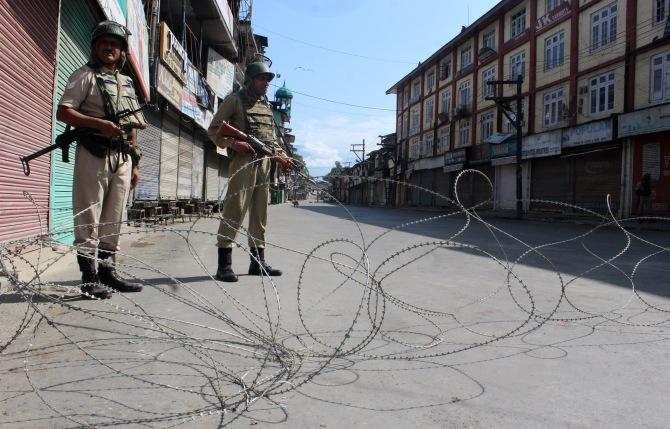 The terrorists who ambushed a police party at Achabal in Anantnag district of South Kashmir on Friday disfigured the faces of the six cops slain in the attack before walking away with their weapons, police said.
A sub-inspector, identified as Pulwama-resident Feroz, a driver and four other policemen, who were on a routine round in their jeep, died in the attack, said Director General of Police S P Vaid.
The terrorists had laid an ambush on Anantnag-Achabal road near Kulgad village and fired at the police party. The police were not travelling in a bullet proof vehicle.
"It is an unfortunate incident to have lost six men including Sub Inspector Feroz, a resident of Pulwama. Their contribution to the police service will be remembered," Director General of Police S P Vaid added.
Pakistan-based terror outfit Lashker-e-Tayiba is believed to be behind the ambush, a senior police official said, adding they wanted to take revenge for the Arwani encounter in which their local commander, Junaid Mattoo, is believed to have died.
The encounter at Arwani in Bijbehara area broke out on Friday morning and all the three terrorists are believed to be dead.
No bodies have been recovered so far.
This is the second major attack on a police party. Earlier on May 28, terrorists attacked a police party at Phambai area of Kulgam in South Kashmir, killing five policemen and two bank guards.
The incident saw immediate reaction from political parties including former Jammu and Kashmir chief minister Omar Abdullah who blamed the Peoples Democratic Party-Bharatiya Janata Party government led by Mehbooba Mufti for the present crisis.
"It seems that South Kashmir is slipping everyday from the hands of the state government. I hope somebody in New Delhi wakes up now," Omar said.
State Congress chief G A Mir said it was a very sad incident.
"It shows that the state government has completely failed in controlling the situation. I wonder when will the Union home ministry wake up," Mir said.