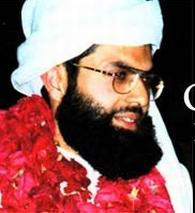 Omar Saeed Sheikh, the terrorist freed by India in exchange for the hostages of a hijacked plane in 2000, has attempted suicide in a Pakistani jail, an official said on Saturday.
The British-Pakistani national, sentenced to death for killing Wall Street Journal reporter Daniel Pearl, attempted to take his life in Hyderabad central jail in Sindh province on Wednesday night, senior prison official Akram Naeem said.
Sheikh, 41, was stopped in time by jail officials when he tried to hang himself inside his cell, Naeem said.
"He is kept in a separate cell and section of the jail as he is no ordinary criminal," he said.
Sheikh was freed, along with Maulana Masood Azhar and Mushtaq Ahmed Zargar, by India on January 1, 2000 in exchange for the hostages of the hijacked Indian Airlines flight.
He was convicted and sentenced to death by an anti-terrorism court in Karachi after he was found guilty of killing Pearl.
Pearl, who was working on a story on the Al Qaeda in 2002, was kidnapped and beheaded by Sheikh and three others in Karachi. Intelligence agencies had arrested Sheikh in February, 2002 from Lahore soon after Pearl's killing.
He had admitted to the kidnapping of Western tourists in India and served time in jail between 1994 and 1999 before being released in exchange for the passengers of hijacked Indian flight.
Doctors had immediately attended to Sheikh, who is now in stable condition, said Naeem.
"We have filed a case against him for attempted suicide; he can face additional punishment now," he added.
Sheikh's lawyer has said that they are waiting for the court to hear their appeal against the death sentence on the ground that the self proclaimed 9/11 mastermind, Khalid Sheikh Muhammad, had admitted to killing Pearl.
Another jail official said that Sheikh had been kept in solitary confinement after the 26/11 terror attacks.
"After the incident of the hoax calls he made to then President Asif Ali Zardar, pretending to be the Indian foreign minister, he was kept in solitary confinement. He is allowed into the courtyard outside his cell under guard for a short time everyday," he said.
Naeem said Sheikh had brainwashed some guards on duty and other prisoners had complained about his dangerous nature.
"He is a very intelligent, strong and sharp criminal with dangerous designs. So his attempt to commit suicide comes as a surprise," the official said.