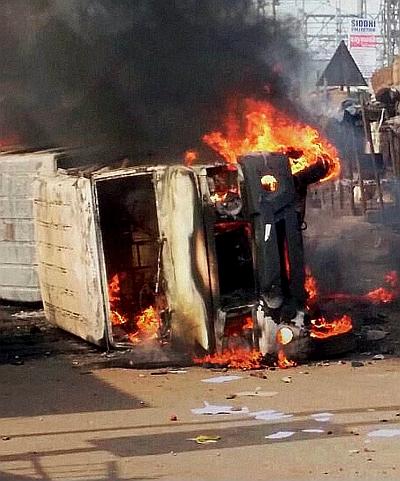 A year after the Narendra Modi government took charge India still finds itself among nations that face a high risk of terror and political violence.
The 2015 Terrorism and Political Violence map compiled by the London-based global risk management company Aon in partnership with The Risk Advisory Group, released on Tuesday, states: 'A new government has not reduced political violence risks in India. While demonstrations over sexual violence against women were not on the same scale and frequency as in 2012 and 2013, they continued to occur in major cities as new cases came to public attention.'
'We have retained a war peril for India. Cross-border incidents between India and Pakistan flared up in 2014, totalling the highest number of ceasefire violations in several years,' Aon said in a statement.
'India has also retained insurgency and terrorism perils. While the number of major incidents involving Maoist insurgents fell by more than 26 per cent from 2013 to 2014, factions continued to operate in central Indian states and frequently staged attacks on businesses operating in the region.'
'Meanwhile, there remains a residual threat from Islamist extremists (both operating domestically and regionally). The Indian Mujahideen detonated a bomb at a BJP rally in April, while Al Qaeda announced the formation of its Indian subcontinent faction, although has yet to demonstrate capability in India,' it added.
Other Observations:
* The South Asia region has the highest concentration of high to severe risk countries, with 66 per cent rated high or above.
* Overall, more countries have seen their terrorism risk decline than have seen it increase, but risks have become more concentrated around a smaller number of countries.
* Thirteen countries are at greater risk from terrorism and political violence than they were in 2014, according to the map: Australia, Belgium, Canada, Denmark, Estonia, France, Germany, Ireland, Lesotho, Norway, Saudi Arabia, Tanzania and Ukraine.
* Twenty one countries are facing a lower terrorism risk than they did in 2014, according to the map, including seven countries in South America. This reflects progress in counter-terrorism efforts in the region, as well as moves to end long-running conflicts in Colombia and Peru, among other factors.
* The region with the most countries at high risk of terrorism and political violence is sub-Saharan Africa, according to the map, with 16 countries in that region considered at high risk.
Explore the map (above) for more figures