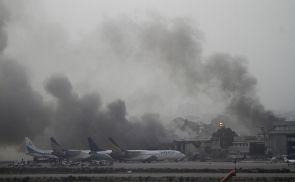 Pakistan airline authorities fear that the terrorist attacks on Karachi airport terminal building could negatively impact the flow of international air traffic at the Jinnah international airport in Karachi.
Some unnamed officials in the Civil Aviation Authority and Pakistan International Airlines admitted that initial reaction to the terrorist attacks had not been very good.
"Some foreign airlines have already either suspended their flights into Karachi or are reviewing their present flight operations from different destinations to the Jinnah international airport," an official said.
A marketing head of a foreign airlines told PTI that their head office in Hong Kong had suspended two flights to Karachi this week.
"The flights come and go on Monday and Wednesday but they have been cancelled this week and a final decision will be taken this week on flight operations to Karachi," he said.
Ten terrorists and at least 26 security officials or civilians were killed in the deadly six hour long siege of the old airport terminal building on Monday.
One source in PIA pointed out that the second attack yesterday has made the things worst.
According to the Airport Security Force, two militants tried to break into the ASF base near the old airport but fled after strong retaliation from security forces.
"Whatever happened no one knows but what matters is that the international media reported the incident as another fresh terrorist attack at the airport and that has not helped our image," the official admitted.
Since 9/11 Karachi has already lost lot of air traffic due to concerns over the security situation in Pakistan with many foreign airlines winding up their regular services from Pakistan's biggest city and financial hub.
"At the moment most flight operations come from airlines belonging to the middle east and traffic to these countries is the most from this airport," one flight operations person at the Jinnah airport told PTI.
"It remains to be seen how much this terrorist attack will have affected the air traffic but the indications are not good," he added.