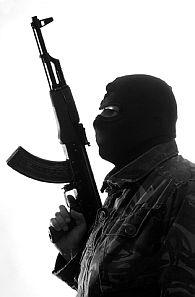 A Pakistani national, who was allegedly having links with banned terror outfits Harkat-ul-Jihad-al-Islami and Indian Mujahideen and indulged in trafficking people of Bangladesh and Myanmar, was arrested from Chanchalguda area of Hyderabad, police said on Friday.
Besides Nasir, Faizal Mohammed, Joynal Abedin, both Bangladeshis and Zia Ur Rahman, a Myanmar national along with two local agents -- Sohail Parvez Khan and Masood Ali Khan -- were also arrested, police said.
A team of South Zone Task Force on Thursday nabbed Mohammed Nasir of Bangladeshi origin (who had migrated to Pakistan) on charge of having close links with HuJI and helping a IM operative, an accused in the 2013 Dilsukhnagar twin blasts here, flee the country after the blasts, Joint Commissioner of Police (Detective Department) T Prabhakar Rao said.
According to police, Nasir, while in Pakistan, came in contact with his distant relative Abdul Jabbar, a staunch leader of HuJI.
"Jabbar indoctrinated Nasir with terrorist ideology and sent him to India for furtherance of unlawful activities. Accordingly, Nasir intruded into India through the Indo-Bangladesh border in 2010 and stayed in different places in India," the joint commissioner of police said.
In Hyderabad, Nasir came in contact with Sohail Parvez and Masood Ali. Nasir received illegal immigrants of Bangladesh, Myanmar etc and harboured them at the residence of Masood Ali and arranged Indian passports to the illegal immigrants by submitting fake ID cards.
Masood Ali received more than 15 illegal immigrants from Bangladesh and Myanmar and got them Indian passports by fraudulent means and sent them abroad, Rao said.
The senior police officer further said on the instructions of Abdul Jabbar, Nasir received one Zia ur Rahman alias Waqas, a Pakistani national, who is an accused in Dilsukhnagar twin blasts at West Bengal and helped him to cross the Indian border to go to Bangladesh immediately after the blasts. Waqas was subsequently arrested by National Investigation Agency.
Asked if Nasir had any plans to carry out terror activities ahead of Independence Day, he said, "It is yet to be ascertained. From the information disclosed by him during interrogation it is not established. But we cannot rule out that also. But he is to be further interrogated by analysing various gadgets we have recovered."
Reacting to another query, Rao said right now Nasir is a trafficker and arranging Indian passports for foreign nationals, for the purpose of employment.
"He claims so, but we suspect something more than that...may be for unlawful activities...May be recruiting youth for terror organisations that is still to be ascertained and confirmed," Rao said.
Reacting to another query, the Joint Commissioner of Police said, in March this year, Nasir came to Hyderabad and was staying in Jalpally. As of now his (Nasir's) role is not established in Dilsukhnagar blasts.
"As of now we are interrogating Nasir and others... definitely other agencies will be involved and their support will be taken.
"We have to still interrogate him as he is having close contact with Abdul Jabbar and also question Nasir's wife, who too was staying illegally here," Rao added.
Efforts are being continued to apprehend absconding accused. Police seized 4 Indian passports, one Bangladesh passport, nine cell phones, around 100 fake ID proofs from the arrested persons.