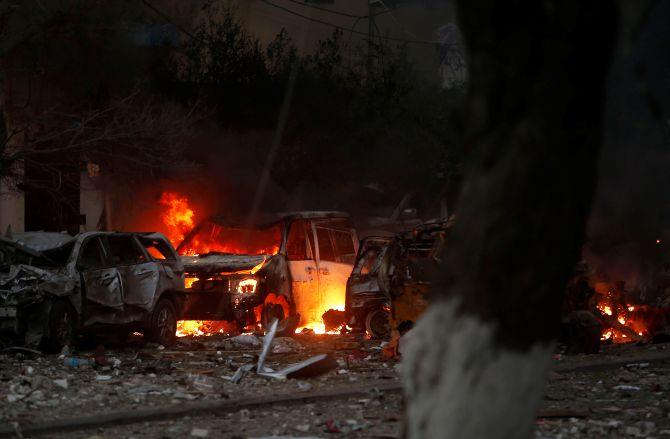 IMAGE: Vehicles burn at the scene of a suicide car bombing outside Hotel Ambassador on Maka Al Mukaram Road in Somalia's capital Mogadishu. Photograph: Feisal Omar/Reuters
Somalia's Al-Qaeda-linked Shabaab on Wednesday launched a deadly attack on a top Mogadishu hotel popular with MPs, killing at least 10 people, police said.
At least 40 others were injured in the attack on Mogadishu's Ambassador Hotel, a senior Somali police officer said.
Two Somali lawmakers are among the dead, the Somali National News Agency reported.
The siege began when attackers detonated a car packed with explosives at the gates of the building, Hajji said.
The explosion shook nearby offices and injured bystanders in front of the hotel, witnesses said. Victims flooded a nearby hospital.
"The attack was started with a heavy explosion and members from the Mujahedeen fighters stormed the building," the Shabaab said in a statement.
Shabaab fighters were chased out of Mogadishu in 2011 but the group remains a dangerous threat in both Somalia and neighbouring Kenya, where it carries out frequent attacks.
They jihadists are fighting to overthrow the country's internationally-backed government.
On Wednesday, the United States said a top Shabaab military leader Abdullahi Haji Da'ud was "presumed killed" during a May 27 air strike.