Yielding to relentless pressure, controversial A Raja on Sunday, resigned as Telecom Minister after being ordered to do so by his party, DMK, in the wake of allegations that he caused a loss of Rs.1.76 lakh crore to the exchequer while allocating 2G Spectrum two years ago.
Raja, the 57-year-old lawyer-politician, who got the coveted portfolio after the exit of Dayanidhi Maran in 2007 and retained it after the May, 2009 elections, drove to Prime Minister's residence to hand in his resignation after steadfastly refusing to do so for the past few days even as the opposition paralysed Parliament demanding his ouster.
The resignation was submitted after he returned to Delhi from Chennai where he met the party chief and state Chief Minister M Karunanidhi twice in the last 24 hours.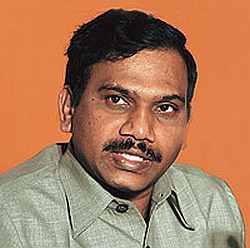 "In order to avoid embarrassment to the Government and maintain peace and harmony in Parliament, my leader (DMK chief M Karunanidhi) has advised me to resign," Raja said.
The resignation comes ahead of Monday's Supreme Court hearing of two petitions alleging involvement of Raja in the spectrum scam.
Also, the opposition parties had made it clear that they would not allow Parliament to function if Raja does not step down.
Ironically, Raja had told reporters at the Chennai airport before leaving for Delhi that, "There is no question of me resigning and there is no need for it."
The top Congress leadership met in Delhi and discussed the issue anticipating uproar in Parliament by the opposition, which has been demanding his removal.
Prime Minister Manmohan Singh, party president Sonia Gandhi and senior leaders Pranab Mukherjee and Ahmad Patel, political secretary to the Congress chief, attended the meeting amid growing view in the party that Raja's continuance in office has become untenable and that he must go.
The opposition has been demanding removal of Raja after the government auditor CAG is believed to have indicted the minister for not distributing 2G Spectrum in a transparent manner resulting in a revenue loss of over Rs.1.76 lakh crore.