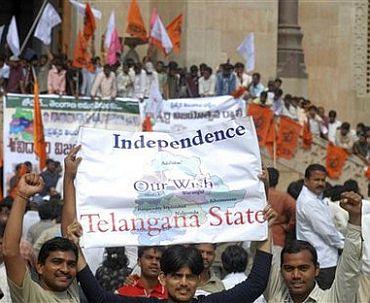 The Lok Sabha witnessed unruly scenes during Question Hour today as Congress and Telugu Desam Party members raised the Telangana issue and DMK members of Parliament protested holding of Commonwealth Summit in Sri Lanka.
Though the House could take up two questions, the ministers' replies and supplementary questions could not be heard. Members from the Shiromani Akali Dal waved newspapers carrying reports of Sikhs having to remove their turbans at an Italy airport.
Leader of the Opposition Sushma Swaraj was seen raising some issue, but she too could not be heard. Bharatiya Janata Party leader L K Advani rose to say that in the last several years he has not seen such pandemonium in the Lok Sabha.
He said the leader of the House and the Parliamentary affairs minister were not present and members from Treasury Benches were disrupting the proceedings. "I request you to please bring the House to order," he told Speaker Meira Kumar, who adjourned the proceedings till noon.
As soon as the House met for the day, Congress members of Parliament from Andhra Pradesh and those from the TDP raised the issue of Telangana. DMK members, wearing black shirts, also rushed to the Well apparently protesting plans by Prime Minister Manmohan Singh to attend the Commonwealth Summit in Sri Lanka.
While DMK members withdrew from the Well, Congress and TDP members continued to raise slogans. Amid din, Railway Minister Mallikarjun Kharge and Power Minister Jyotiraditya Scindia replied to questions of their respective ministries.