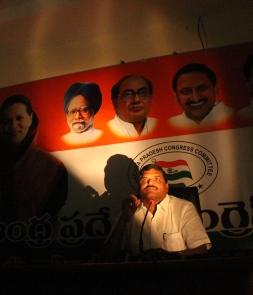 The strike by the anti-Telangana power sector has crippled life in Andhra Pradesh, badly hitting hospitals and water supply.

Life in Andhra Pradesh has come to a standstill with a blackout hitting hospitals, water supply and other essential services. Protesting against the Centre's green signal to Telangana, around 30,000 employees from the power sector have boycotted work.

Andhra Chief Minister Kiran Kumar Reddy will hold talks with the Seemandhra Electricity Joint Action Committee on Wednesday with the hope to end the power crisis in the state.
However, chairman of the Joint Action Committee Sai Baba is in no mood to relent. Speaking to rediff.com he said that there was no question of withdrawing the agitation unless the Centre changes its decision on statehood for Telangana.
"We are not going to stop unless there is a positive announcement from the Union government. We do not want our state to be divided. People are ready to make any sacrifice to keep Andhra Pradesh united. There will be no exemption to anyone -- be it hospitals, water supply units or the agriculture sector," he said.

'Our lives will plunge into permanent darkness if state is bifurcated'
The strike entered its third day on Tuesday. "Let the Southern grid trip. The entire region has plunged into darkness and we understand that the strike has caused a lot of problem. But what the Centre needs to understand is that all our lives will plunge into permanent darkness if the state is bifurcated," Sai Baba said.
"The government says that it is concerned, but does not want to listen to our demands. Has there been any assurance given to us about our future in a bifurcated state?"
"We do not know what the politicians are thinking or what they want. Our concern is to keep the state united and we will go to any extent to ensure it remains that way. Many officials have tried speaking with us, but are unable to give any concrete solution, the JAC chairman added.
As the fear of the collapse of the southern grid loomed large, chief ministers of Karnataka (K Siddaramaiah) and Tamil Nadu (J Jayalalithaa) called up Reddy expressing concern about the blackout, which will eventually affect their states as well.Tthe Andhra CM was helpless.
Government officials said that the shutdown was a serious one. "It has affected the entire Seema-Andhra region. In fact power cuts have begun in Hyderabad as well."
The Vijayawada Power Thermal station, Rayalaseema Thermal Power Station, Sreesailam Right Bank Hydel Generation station, Upper Seelaru station and the Donkarayee power project have shutdown completely. ATM services, power supply and fuel stations have been badly hit.
Essential services such as hospitals have affected as well. Most of the incubators in the super specialty-hospital in Vishakapatanam are not working. The burn wards are struggling without air-conditioning. The airports at Tirupathi and Vijayawada are running on back up power and it is only a matter of time before they too run out of resources and will need to shut operations.

Image: PCC chief and state transport minister Botsa Satyanarayana addresses the media amid a blackout in Hyderabad
Photograph: SnapsIndia