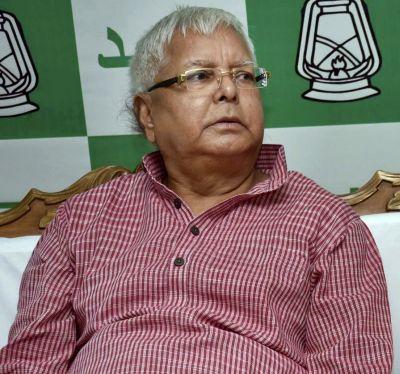 The RJD chief said that the BJP at the Centre is trying to destabilise the grand alliance government in Bihar.
M I Khan reports from Patna.
Reiterating his party's stand, Rashtriya Janata Dal Chief Lalu Prasad Yadav on Friday said that his son and Bihar deputy chief minister Tejashwi Yadav will not resign over corruption charges and mahagathbandhan (grand alliance) is intact in the state.
"The grand alliance (of Janata Dal-United, Rashtriya Janata Dal and Congress) is intact in Bihar," he said after holding nearly three hours long meeting with senior party leaders and MLAs at his official residence in Patna.
Lalu also said that there is no difference between him and Bihar Chief Minister Nitish Kumar.
He said that the Bharatiya Janata Party government at the Centre has been using Income Tax department, the Enforcement Directorate and the Central Bureau of Investigation to destabilise the grand alliance government in Bihar.
But he said that he and his party will not do anything to provide any space to the Rashtriya Swayamsevak Sangh and the BJP to put its step in the state.
After returning from Ranchi, Lalu hold meeting with RJD leaders in view of media reports that Congress president Sonia Gandhi has intervened to save the grand alliance government led by Nitish Kumar.
"TV channels are running baseless news that Sonia Gandhi had spoken with me. We had no discussion on the grand alliance," he said.
Lalu said he don't know whether Sonia had spoken with Nitish Kumar.
Last Friday, the Central Bureau of Investigation conducted raids across four cities in a corruption case in which Lalu's wife Rabri Devi and son Tejashwi were among the accused. The case relates to alleged manipulation in awarding contracts for the maintenance of two hotels run by a subsidiary of the Indian Railways -- IRCTC -- when the RJD chief was railway minister in the United Progressive Alliance government.