With the Navy ruling out deploying indigenously-built Light Combat Aircraft Tejas on its aircraft carriers, Aeronautical Development Agency on Saturday said it was restricted only to Mark I which was a technology demonstrator and pinned hopes on Mark II for use by the Navy.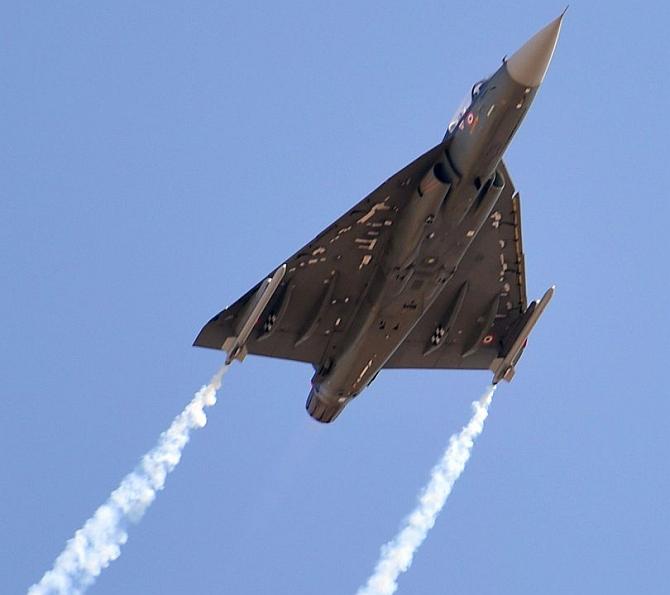 ADA Director C D Balaji said he believed that the December 3 statement by Navy Chief that the aircraft was overweight and therefore would not be useful for the services was restricted to LCA Navy Mark I.
"...We knew (it) was a heavier platform upfront and it was basically a technology demonstrator and that is how it is intended," he said.
ADA is the nodal agency for the design and development of the LCA.
Stating that in 2009 it was recognised by the Cabinet Committee that it would be a technology demonstrator, he said: "...I basically presume that there is an immediate need for Navy and therefore they have basically sent out an RFI (Request for Information) for 57 aircraft based on the situation."
In December Navy Chief Admiral Sunil Lanba had said the "present LCA does not meet the carrier capability required by the Navy", following which the Navy has launched an RFA to procure 57 multi-role combat aircraft for its carrier.
Pointing out that the number of testings that are going on from last year or so, Balaji said "....we will convert this project into a product and that will happen once we do an arrested recovery (by mid of this year), the moment we do that we will carry the learning into Mark II which has already been designed."
Once the product was available, the user would take it." So I think we have to deal with CNS's statement towards the Mark I as rejected...," he said.
Balaji was speaking to reporters at the curtain raiser of 11th biennial Aero India International Seminar to be held from Feb 12 to 14, in Bengaluru, as a prelude to the eleventh edition of the Aero India Aerospace Exposition from February 14 to 18.
Defence Research and Development Organisation Chairman S Christopher said "we have levels of R&D development, particularly when we are doing technology development.
"Whatever has been spoken is for Mark I, the Mark II programme still exists. As far as the government of India is concerned Indigenous efforts are supported fully," he said.