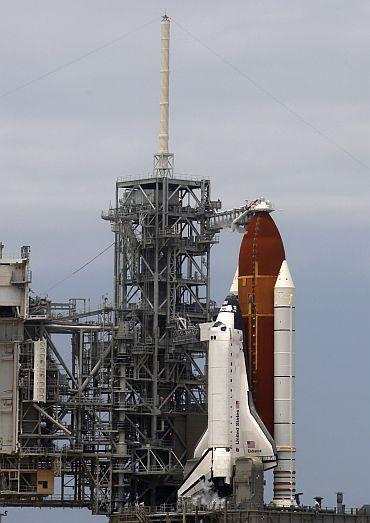 The final launch of space shuttle Endeavour was abruptly called off by National Aeronautics and Space Administration on Friday because of technical failure in critical power unit that arose shortly before liftoff.
United States President Barack Obama and his family were planning to watch Endeavour blast off. It would have been the first time in NASA history that a sitting president and his family witnessed a launch. The first family, however, had not yet arrived in Florida when launch was cancelled.
Launch commentator George Diller said the next try likely would be Monday at the earliest. Officials huddled in launch control, discussing a path forward.
"They are trying to assess what all is going to be required and how much time we're going to need," Diller said. "We still don't know what's wrong or why these multiple heater failures occurred."
Commander Mark Kelly and his crew were already on their way to the launch pad, when NASA announced the delay.
Around Friday noon, NASA reported that two heaters on an auxiliary power unit had failed. Engineers could not understand the problem and were uncomfortable about proceeding with the launch. An electrical short was suspected.
Three power units provide hydraulic pressure to the main engines at liftoff and to the rudder and speed brake during landing. They are crucial components; each must be working perfectly before launch.

Image: The space shuttle Endeavour sits on launch pad 39A following the scrubbed launch attempt at the Kennedy Space Center in Cape Canaveral, Florida | Photograph: Scott Audette/Reuters