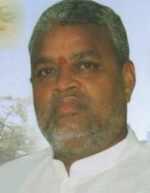 Former Union Minister and senior Telugu Desam Party leader Kinjarapu Yerran Naidu, who died in a road accident, was cremated with state honours at his native Nimmada village in north coastal Andhra district on Saturday morning.
Telugu Desam chief N Chandrababu Naidu led scores of party leaders, workers and admirers in the funeral procession, after which a gun salute was given by the police.
Srikakulam district Collector Saurabh Gaur placed a wreath on Yerran's body on behalf of the government.
Yerran Naidu's son Rammohan lit the pyre set in the family's agriculture field.
Chandrababu, who was accompanied by his son Lokesh, was in tears as he bid final adieu to his closest aide.
Thousands of people from Srikakulam and neighbouring Vizianagaram district thronged Nimmada and paid homage to the departed leader, who had represented them in the Andhra Legislative Assembly and the Lok Sabha for four terms each.
Andhra Civil Supplies Minister D Sridhar Babu, MP Madhu Yashki, MLAs Nagam Janardhan Reddy and S Venugopalachari were among those who paid homage to Yerran Naidu.