In a big blow to the Bharatiya Janata Party-led National Democratic Alliance, the Telugu Desam Party on Friday decided to quit the NDA government.
The party also moved a no-confidence motion against the Modi government over the injustice meted out Andhra Pradesh.
Here are some of the reactions.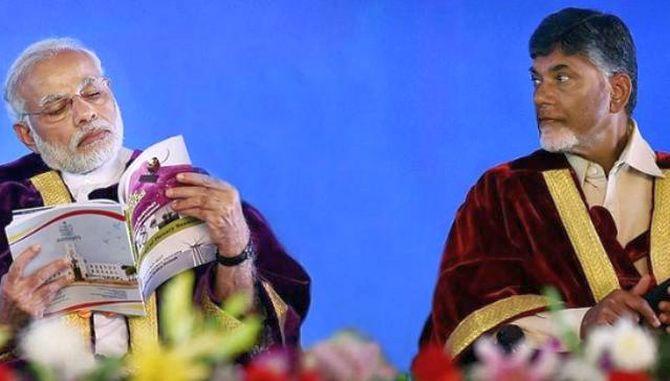 YSR Congress president Y S Jaganmohan Reddy has said the TDP had "woken up" to the needs of Andhra Pradesh by moving a no-confidence motion against the Narendra Modi government over special status to the state.
His remark came after the TDP on Friday morning quit the NDA following the Centre's refusal to give the state Special Category Status.
Terming the TDP's decision a "win for democracy", Reddy asserted his party would continue to fight for Special Category Status (SCS) for Andhra Pradesh.
"After 4 years of relentless struggle and fight by YSRCP with people's support for Special Category Status; finally the nation, including @ncbn's TDP wakes up!" Jagan said in a tweet.
"Win for democracy & people of AP. YSRCP will continue to fight for SCS, the rights of the people of AP," Reddy, who is also the Leader of Opposition in Andhra Pradesh, said in another tweet.
-- Y S Jaganmohan Reddy, YSR Congress chief
We will give a no confidence motion in Parliament with at least 50 signatures as is mandated on Monday. The BJP means 'Break Janta Promise'.
-- Thota Narsimhan, TDP MP
It is unfortunate. We tried our best to be together but the present government ignored the sentiments and emotions of people of Andhra Pradesh. Emergency politburo was conducted in which TDP president N Chandrababu Naidu took decision to withdraw from NDA.
-- YS Chowdary, TDP MP
I welcome the TDP's decision to leave the NDA. The current situation warrants such action to save the country from disaster. I appeal to all political parties in the Opposition to work closely together against atrocities, economic calamity and political instability.
-- Mamata Banerjee, Trinamool Congress chief and West Bengal chief minister
We will see what happens in Parliament, which party chooses to go which way. In a way it is election year andevery state has demands and issues. It is not right for us to comment on it. It is a custom, before actual elections there is always a rehearsal in Parliament.
-- Mukhtar Abbas Naqvi, BJP MP
TDP's decision to quit was inevitable after its mischievous propaganda against Centre. People of AP have now realised that the TDP is resorting to lies to cover up its inept and inert governance. Far from being a threat, TDP's exit is a timely opportunity for the BJP to grow in AP.
-- GVL Narasimha Rao, BJP national spokesperson