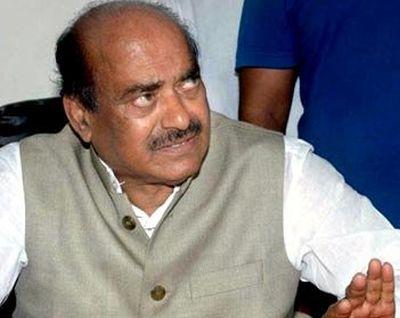 All major domestic airlines have banned Telugu Desam Party MP Diwakar Reddy from flights citing "unruly behaviour" after he was denied boarding for being late, while the civil aviation minister said the CCTV footage shows all and safety rules are same for MPs and common people.
The minister, Ashok Gajapathi Raju -- who also belongs to TDP -- said the safety rules mandate closing of counters 45 minutes before the flight and there was no need for any further probe in this case as the enquiry into the CCTV footage showed "he has not done it (reaching on time)".
Reddy allegedly created ruckus at Vizag airport on Thursday after being denied boarding by IndiGo as he was late.
"There is no need for a probe. What are you going to probe. The CCTV cameras said it... There are no separate regulations for different classes of people. The safety regulations are the same for all classes including me," Raju told reporters.
"Directorate General of Civil Aviation has issued a safety regulation that people are expected to report 45 minutes before. Notwithstanding anything, he (Reddy) has not done it. It is clear from the CCTV cameras. So that's it," the minister added.
Earlier in the day, Raju said he would get the entire incident "enquired into" and would ensure that "lawful outcomes" follow.
"I will get the entire incident at Vizag airport enquired into to find out the exact details and ensure that lawful outcomes follow," he said in a tweet.
Following Thursday's incident, all major airlines -- IndiGo, Air India, Jet Airways, SpiceJet, Vistara and AirAsia India -- have barred Reddy from taking their flights.
" (I have) nothing to say. I don't want to speak anything" Reddy told reporters at Hyderabad on Friday, with folded hands, when asked if he was apologetic over his actions.
He is a Lok Sabha member from Anantapur.
Reddy -- who had allegedly vandalised the Air India office at Gannavaram airport in Vijayawada last year after he missed his flight -- got into a verbal spat with the ground staff and threw a printer kept at the airline's counter after he was informed that boarding for his flight had closed.
He was finally accommodated on the same flight.
The civil aviation minister also denied a media report that he had intervened to ensure Reddy was allowed to board the IndiGo flight and said there was "no such intervention".
To reporters' query on whether he helped Reddy, Raju said, "He (Reddy) came and told me that I have been waiting for one hour. I have been denied boarding. I said we have a third umpire called the CCTV cameras and we don't have to take anybody's words for it. The CCTV camera showed what the situation was and I asked the airport director to verify from the CCTV cameras."
In a show of unity, all major domestic airlines have barred Reddy from taking their flights -- similar to action taken by the carriers after the incident involving Shiv Sena MP Ravindra Gaikwad earlier this year.
Following the Gaikwad incident, the government framed draft rules for a national no-fly list for unruly passengers and proposed a flying ban on such persons that can range from three months to an indefinite period. The government is expected to finalise these rules shortly.
IndiGo, state-run Air India, SpiceJet and Jet Airways announced flying ban on Reddy last night itself while full-service carrier Vistara and two more budget airlines – GoAir and AirAsia India -- today barred him from their flights.
"After careful consideration of the various issues and ramifications of the actions of Reddy, GoAir has also taken a decision of not accepting any further bookings for the said passenger," the airline said in a statement.
An AirAsia India spokesperson said it has also barred Reddy from flying. AirAsia India in its statement said it supports the decision to impose a flying ban by the fellow domestic airlines.
"We will support the decision taken by the industry with regard to the recent incident involving an IndiGo staff," the AirAsia India spokesperson said in the statement. "AirAsia India does not tolerate abusive or unruly behaviour by passengers that puts the safety of other guests and crew members on board at risk," the airline said.
The airline is fully committed to providing a safe and comfortable journey to guests, the statement added.
"In support of the fellow carriers, Vistara has also taken a decision to impose flying ban on J C Diwakar Reddy," a Vistara spokesperson said.
Television channels on Thursday also showed CCTV visuals of him allegedly pushing an IndiGo employee.
"The staff politely informed him that boarding for flight 6E-608 is closed and offered to accommodate Mr Reddy in the subsequent flight. Mr Reddy expressed his annoyance and soon raged against the staff using aggressive and abusive behaviour," IndiGo said in a statement after the incident.
"Any untoward conduct which compromises the safety and security of our passengers and staff is a serious concern for us. Safety and security of passengers, crew and the aircraft are the top priority and it cannot be compromised," it added.