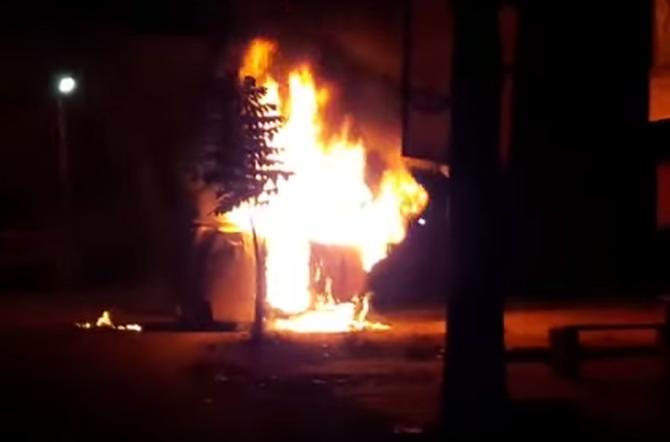 Amidst the outrage over the alleged assault and stripping of a 21-year-old Tanzanian woman in Bengaluru, five persons have been arrested in connection with the incident but the Karnataka government on Thursday denied that she was paraded naked.
As the incident on Sunday night took a serious diplomatic turn, Karnataka Chief Minister Siddaramaiah told reporters at a global investors meet in Bengaluru, "Case has been registered, five of them (accused) have been arrested. Sushma Swaraj also spoke to me, I will also be sending her a report through my Chief Secretary."
State Home Minister G Parameshwara refuted reports that the Tanzanian woman was paraded naked saying, "No such thing happened". It was "definitely not a race attack", he said.
Voicing concern over the incident, the Union Home Ministry asked the state government to give a detailed report about the circumstances leading to the assault of the Tanzanian woman, action taken against those allegedly involved in it and steps taken for the protection of the victim.
The Tanzanian woman student was allegedly beaten up and stripped by a mob in a case of "mistaken identity" after a woman was mowed down by a car in Bengaluru.
She was reportedly dragged out of the car in which she was seated along with her three friends when she reached the accident spot with the miscreants mistaking them to have caused the fatal accident though a Sudanese was involved in it, police said.
Facing flak over the incident, Siddaramaiah said he has asked the police to conduct an inquiry on why a complaint was not lodged immediately.
In Delhi, Tanzanian High Commissioner John W H Kijazi said he had sent a complaint to the Government and sought prompt action against those behind the "unfortunate" incident.
He urged the government to reinforce security in localities where African students were staying. "We request the Government of India to ensure safety and security of our students in Bengaluru and all other places in India," he said.
Congress Vice President Rahul Gandhi has sought a report from the Karnataka government, according to party General Secretary Digvijay Singh, in charge of Congress affairs in the state.
"Rahul Gandhi asks Karnataka Govt to explain and send report immediately," Singh said in a series of tweets.
But asked if the Congress high command has sought a report, Siddaramaiah said, "Why will high command seek report on everything? It is you people who are saying..."
In Delhi, MEA spokesperson Vikas Swarup said a team including the Tanzanian High Commissioner, who is also the Dean of the African Diplomatic Corps, will be leaving for Bengaluru on Friday.
The team also includes Joint Secretary (States), Director Eastern and Southern Africa in MEA and the Regional Director of ICCR, he said, adding the Central and state governments will extend full cooperation to investigation of this case.
He said all steps will be taken to ensure the safety and security of African students in the country.
According to All African Students Union's Legal Adviser Bosco Kaweesi, the woman student was stripped by a section of the mob and pushed out of a slow-moving bus that was passing by as she tried to board it to escape.
"It is very clear from the report (submitted by police) that no such thing (being paraded naked) happened," Parameshwara said.
Noting that 12,000 foreign students are studying in Bengaluru, he said it was the duty of the government to protect them. "If the accident had not occurred, this (incident) would not have happened," he said.
He said no student gave a complaint or spoke about the incident involving the Tanzanian woman for two days.
Later, she had given a statement to police which had been recorded. He said the Tanzanian student, who is doing MBA, was beaten up after the car in which she was travelling with three other occupants was stopped by the mob.
Parameshwara said the Sudanese student, who was identified as Mohammed Ahmed Ismail, was driving the car in a drunken state and the vehicle hit two pedestrians with the woman dying on-the-spot and her husband being injured. Ismail was also sustained injuries and was shifted to hospital.
Enraged people torched the vehicle, he said. It was later that the Tanzanian woman student and three others came to a spot about a km away from the accident site, when they were surrounded by the mob, he said.
The Bharatiya Janata Party trained its guns on Congress for its "hypocrisy" in not initiating action against the culprits and questioned Rahul Gandhi's "silence" over the incident that happened right under the nose of his party-run government.
"Such a big incident has happened and so much time has passed, still Rahul and Congress are silent for something that has happened under the very nose of their government there. No action has been taken. This shows how much hypocrisy is there in them and how they play hypocritical politics," Union Minister and senior BJP leader Mukhtar Abbas Naqvi said.