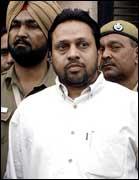 A Delhi court on Friday sentenced Sushil Sharma to death by hanging for killing his wife Naina Sahni on July 2, 1995. Sharma was convicted for the crime by the same court on Monday.
Keshav Kumar, manager of Baghiya Restaurant from where Sahni's body was recovered, was given seven years rigorous imprisonment. The court also fined him Rs 10,000. If he fails to pay it Kumar will have to undergo another three months of RI.

Also see: Crime Capital 
Special: Murder most foul

Since Kumar has already spent eight years in prison, he would be released if he pays up the fine.

Considering the tough stand taken by Judge Thareja on Thursday against Keshav Kumar when he said the accused should have informed the police instead of helping Sharma in burning parts of the body, the punishment came as a surprise to many.
Legal experts, however, said the judge could not have given more sentence to Keshav Kumar.

The court will send the file to the Delhi high court before December 19, 2003 for the confirmation of the death sentence.
Kumar was acquitted of the murder charge (section 302) but was found guilty of helping Sharma destroy the evidence. Sharma was also convicted under section 120 for destruction of evidence.
Additional Sessions Judge G P Thareja said this was 'rarest of the rare' cases and the prime accused deserved the death sentence. "To be hanged till death," the judge said in his order.
He also fined Sharma Rs 2000. If Sharma fails to pay the fine he will have to undergo one month rigirous imprisonment.
Reacting to the sentence, Sharma said he respects the decision of the court and will abide by it.
Sahni's body was recovered from the tandoor (oven) of Baghiya Restaurant at the ITDC-owned Ashok Yatri Niwas while it was being burnt.
Additional Sessions Judge G P Thareja had acquitted Jai Prakash Pehlwaan, Rishi Raj Rathi and Ram Prakash Sachdeva, who were accused of harbouring Sharma, for want of evidence.
He had also directed the chief metropolitan magistrate to prosecute senior IAS officer D K Rao, the then Resident Commissioner of Gujarat Bhawan for allegedly harbouring Sharma after the gruesome murder.

Complete coverage of the Tandoor murder case