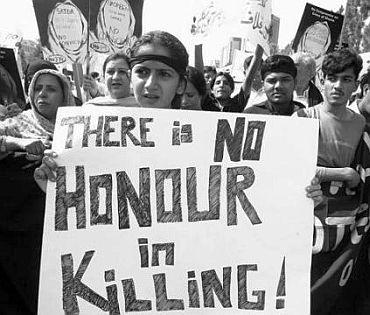 The widow of a slain Dalit youth, who was hacked to death in March this year in a case of honour killing, allegedly attempted suicide on Thursday and has been hospitalised, police said.
Kausalya, 19 fell unconscious at her in-laws' house near Udumalpet in Tirupur district after consuming poisonous cow dung powder and was rushed to a government hospital in that town.
The police, quoting her relatives, said she was depressed after the death of her husband.
Doctors attending on her said her condition was stable.
Communist Party of India-Marxist and Tamil Nadu secretary G Ramakrishnan, who visited the hospital, told reporters that the need of the hour was strong counselling for Kausalya.
He said he would try to convince her not to resort to take such drastic steps.
Kausalya had survived the March 13 attack when three persons attacked her and her 22-year-old husband Shankar with sickles in full public view near a bus stand in Udumalpet, allegedly at the behest of her father, a caste Hindu who was opposed to their inter-caste marriage.
Shankar had died on his way to the hospital.
Kausalya had blamed her father, who surrendered before a local court in Nilakottai in Dindigal district, for the attack.
Video footage of the attack had gone viral triggering an outrage. Five persons, including the girl's mother, were arrested.
Kausalya has been staying with her in-laws ever since she was discharged from hospital on March 28.