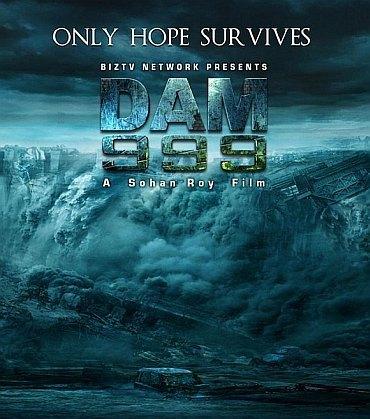 Tamil Nadu government on Thursday banned Dam 999 with immediate effect after the movie faced a storm of protests from various political parties which claim the controversial film is based on the Mullaperiyar dam, over which the state is locked in an escalating row with Kerala.
"The Tamil Nadu government has banned the screening of movie Dam 999 with immediate effect," a terse one line announcement by Chief Secretary Debendranath  Sarangi said.
The government's decision comes a day after theatre owners across the state decided not to screen the movie, saying it was against the interests of the state.
Political parties, including Dravida Munnettra Kazhagam, Marumalarchi Dravida Munnetra Kazhagam and Pattali Makkal Katchi had raised their voice against the release of the movie, a Hollywood movie directed by Sohan Roy.
The objection mainly centred around the contention that the film justifies breaking of the Mullaperiyar dam as the plot revolves around the collapse of a reservoir and was against the interests of Tamil Nadu.
The ban comes in the midst of war of words between Kerala and Tamil Nadu over the 116-year old structure in Idukki district of Kerala, which is under Tamil Nadu's control  and meets the irrigation needs of farmers in southern districts.
Tamil Nadu Chief Minister Jayalalithaa had on Wednesday shot off a letter to Prime Minister Manmohan Singh, accusing Kerala of trying to whip up fear among its people  for political mileage, though the dam is as "safe and good as new".
She had also sought Singh's intervention to advise Kerala not to venture on a new dam as the present one was functioning well and not to whip up panic among people for political mileage.
An all party meeting in Kerala had on Wednesday taken note of recurrence of tremors in the dam's vicinity and asked the Centre to intervene to resolve the issue.
The meeting convened by Chief Minister Oommen Chandy had also requested Tamil Nadu to co-operate with the state for building a new dam. Citing safety concerns, Kerala has proposed construction of a new dam to replace the old structure, but Tamil Nadu has been opposing it, saying it would affect the state's interest.
DMK chief M Karunanidhi had warned that the film's release would affect cordial ties between people of Tamil Nadu and Kerala and pose a law and order problem.
MDMK chief Vaiko had said the film, financed by Keralites, starring Indian and Hollywood actors has been named
Dam 999
, referring to the legal rights held by Tamil Nadu over the dam for 999 years and warned of protests if it was released.