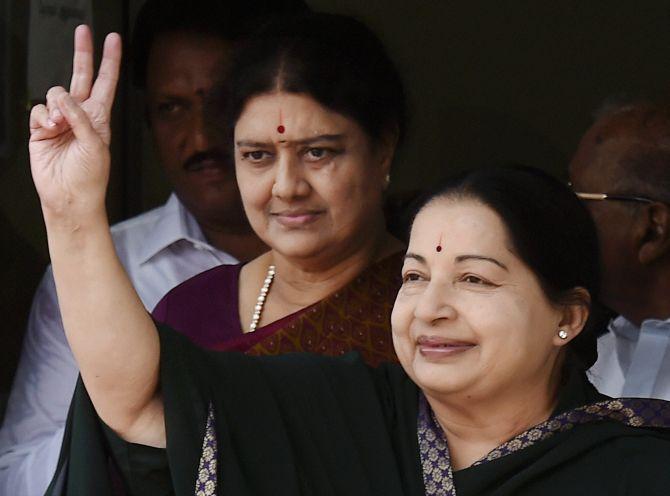 All India Anna Dravida Munnetra Kazhagam supremo and Tamil Nadu Chief Minister Jayalalithaa on Monday declared assets worth Rs 113.73 crore, Rs.3.40 crore less than what she had declared last year.
She has movable assets, total value of which is Rs 41.63 crore and immovable properties valued at Rs 72.09 crore and the total value is Rs 113.73 crore, according to the affidavit filed by her to contest from Radhakrishnan Nagar Assembly constituency in Chennai.
She has Rs 41,000 cash in hand, listed Rs 2.04 crore as liabilities and declared agriculture in the profession-occupation column, it said.
In the 2015 bypoll in the same RK Nagar seat, she had declared total assets of Rs 117.13 crore, which included Rs 45.04 crore of movable and Rs 72.09 crore of immovable assets.
In the 2011 assembly election, while contesting from Srirangam constituency, she had declared assets of Rs 51.40 crore. In 2006 polls, the value was Rs 24.7 crore.
In the column on investment in companies, she said "various deposits and shares with companies have been seized by the police and with the custody of the court in case relating to Spl.C.C.No.208 of 2004 on the file of 36th Additional City Civil and Sessions Court, (Special Court) Bengaluru."
The reference is with regard to the disproportionate assets case against her.
"As the possession is not with me, the value could not be ascertained," she said.
Jayalalithaa's residence in upscale PoesGarden 'Veda Nilayam' spread over 24,000 square feet with a built up area of 21,662 square feet is valued at Rs 43.96 crore. She, along with her mother, bought the property for Rs 1.32 lakh in 1967.
She owns 14.50 acres of farm land in Jeedimetla village in Ranga Reddy district in Telangana and 3.43 acres in CheyyurVillage in Kancheepuram village in Tamil Nadu.
She had purchased the property in Telangana in 1968 along with her mother Sandhya and the Cheyyur property in 1981.
She owns four commercial buildings, including one each in Chennai and in Hyderabad.
Jayalalithaa has two Toyoto Prado SUVs, together valued at Rs 40 lakh. Also, she has a Tempo Traveller, a Tempo Trax, a Mahindra Jeep, an Ambassador car of 1980 make, a Mahindra Bolero, a Swaraj Mazada Maxi, and a Contessa (1990 model) and
the vehicles are together worth Rs 42,25,000.
On her gold jewellery, the Tamil Nadu CM said the value of 21,280.300 grams could not be ascertained as it was with the Karnataka government treasury in connection with the disproportionate assets case. She has also mentioned that the assets case was pending in the Supreme Court.
She has declared possession of 1,250 kg of silver articles valued at Rs 3,12,50,000.
Jayalalithaa had made investments in five firms as a 'partner', which are together worth Rs 27.44 crore. These include Shri Jaya Publications, Sasi Enterprises, Kodanad Estate, Royal Valley Floritech Exports and Green T Estate.
She has no investments in NSS, postal savings, insurance policies. She has also not given personal loans or advances to any person or entity, the affidavit stated.
The AIADMK leader has filed income tax returns up to the assessment year 2015-16 and assessments have been completed up to 2013-14.
"The additional liability on account of income tax assessments is not determinable as the additions have been disputed at the appellate level," it said.
Image: Tamil Nadu chief minister and AIADMK chief J Jayalalithaa along with her close aide Sasikala Natarajan leaves after filing nomination papers for upcoming state assembly polls, at Tondiarpet zonal office in Chennai on Monday. Photograph: R Senthil Kumar/PTI