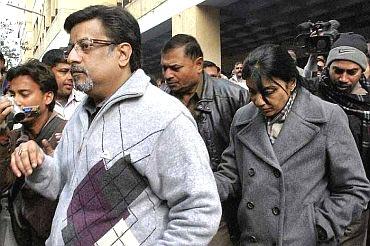 Dubbing as "serious miscarriage" of justice the special Central Bureau of Investigation court verdict sentencing Rajesh and Nupur Talwar to life imprisonment for killing of their daughter Aarushi and domestic help Hemraj, the couple's lawyers on Tuesday alleged that the two had been victim of a "witch-hunt".
"It is serious miscarriage of justice. Definitely it will be examined. We will be appealing in the Allahabad high court. The verdict is unsustainable in the court. There has been a witch-hunt," Talwars' counsel Rebecca John said.
She alleged the case saw most "shocking abuse of power" by the CBI which investigated the 2008 double murder case of Talwars' daughter Aarushi and their domestic help Hemraj in neighbouring Noida.
"It is the most shocking abuse of power (by the CBI). The kind of witch-hunt (they have done), I have never seen it. It is shocking and a sad day for India....
"I believe the Talwars are the victims of witch-hunt and I believe that they should have been honourably acquitted in this case and not held guilty. A lot of fabrication has been done in this case," John said.
A special CBI court in Ghaziabad on Tuesday sentenced Talwars to life imprisonment for killing Aarushi and Hemraj.
Fourteen-year-old Aarushi was killed in the intervening night of May 15-16, 2008 at Talwars' Jal Vayu Vihar residence. The body of Hemraj was found the next day at the house's terrace.
"I am absolutely against death penalty for any body and I would not expect this for anyone.... The order will be examined. I have not seen it. We will appeal in the higher court," she added.
Another of Talwars' counsel Satyaketu Sharma was also critical of the CBI probe in the case. "It is the fault of the CBI and not of the media as they leaked a distorted and selective version of the probe that they were doing. I don't think media is responsible for this judgment," said Sharma.
Fiza Jha, Aarushi's friend, claimed that Talwars were innocent. "Aarushi's parents are innocent. They loved her very much. We need justice for Aarushi and hence I want that the parents should appeal in this case. We have lost the focus on what the reality is. We have forgotten a lot of unanswered questions. There is a lot more to this case then what we are seeing," said Jha.
CBI lawyer R K Saini said they had demanded maximum punishment for the couple on the basis that there were two murders committed in the house.
A lawyer for Krishna, who worked as a compounder at Rajesh Talwar's clinic, said his stand has been vindicated with the court judgment. "My stand has been vindicated today that Krishna was innocent," Krishna's counsel Fateh Chand Sharma said.

Image: Rajesh and Nupur Talwar have been sentenced to life in the Aarushi-Hemraj double murder case