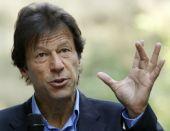 While terming Imran Khan's rally to South Waziristan "a mere drama", the Taliban has warned Tehrik-e-Insaaf Pakistan not to go ahead with the rally or face music.
The Taliban has distributed a pamphlet in Tank, the gateway to South Waziristan, and termed Imran Khan as an agent of the United States, Britain and Israel and alleged that the cricketer-turned-politician is politicising the issue and has no sympathy for the poor tribesmen. Interestingly, the pamphlet has been issued from an unknown Taliban group Jaish-ul-Mujahedeen-al-Khilafat.
Imran Khan's party is planning to lead a convoy from Islamabad to South Waziristan on October 7 to protest against US drone strikes and has said that no one could stop the peace march, adding that Pakistan President Asif Ali Zardari would be directly responsible for any untoward situation. "Drone strikes are a crime against humanity. The whole world will be told how drones are destructive and counterproductive through this march", said Imran Khan.


The one-page pamphlet, written in Urdu, was distributed in Tank Bazaar on Thursday night. It said, "We inform all and sundry with humble way that Imran Khan/TIP is taking a rally into South Waziristan with a slogan of anti-drone. (He has no sympathy with the tribesmen) actually it is a drama and he is the agent of Israel, US and Britain. On the politics of drone he is promoting the Jewish and agendas of Christianity (in Pakistan)."
The pamphlet further added, "We humbly request the people not to participate in this rally otherwise Imran Khan would be responsible if something unpleasant happens."