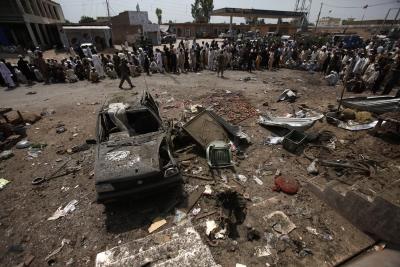 At least 20 people were killed and over 50 others injured on Saturday in a powerful blast at a crowded vegetable market in northwest Pakistan's restive Kurram Agency, officials said.
The blast took place at the crowded Sabzi Mandi inside Eidgah Bazaar in Parachinar, the administrative headquarters of the agency near the Afghan border.
Initial report suggests that explosives kept in a vegetable crate exploded during auction of the vegetables, killing 20 people and wounding 50 others, officials said.
The injured were shifted to Parachinar headquarters hospital where there is a shortage of doctors and medical facilities.
A statement issued by the Inter-Services Public Relations said the improvised explosive device blast took place at 08:50 AM in vegetable market.
"Army and FC Quick Response officials have reached the blast site and cordoned off the area. Army helicopters have been flown in for medical evacuation of the injured," it said.
Interior Minister Chaudhry Nisar Ali Khan condemned the attack and ordered a detailed report regarding the incident.
According to officials, the death toll is expected to rise as the market was crowded due to early morning rush.
Kurram is one of the most sensitive tribal areas as it borders three Afghan provinces and at one point was one of the key routes for militant movement across the border. It has witnessed scores of attacks.
The attack came days after police killed banned militant group Lashkar-e-Jhangvi chief Asif Chotu, who was on Pakistan's most wanted terrorist list and carried a bounty of Rs 3,000,000 on his head, near Lahore in Punjab province.
Tehrik-i-Taliban Pakistan spokesman Umer Khurasani has claimed responsibility for the Parachinar blast.
He said the blast was in retaliation for killing LeJ chief Chotu, along with three others in an encounter.
LeJ was founded in 1996 as a terrorist offshoot of Sipah-i-Sahaba, a Sunni sectarian group that emerged in the mid-1980s. LeJ has claimed responsibility for the deaths of hundreds of civilians, mostly minority Shia Muslims.
Parachinar has a sizeable Shia population and in the past the minority community was targeted through bombings.
In December 2015, a bomb hidden in a bag ripped through a crowded bazaar in a mainly Shia area of the northwestern tribal region, killing at least 23 people and wounding more than 30.
Image for representation only.