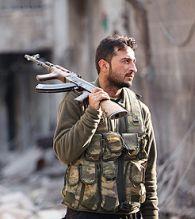 Syria has agreed with the Russian proposal to place its chemical weapons stocks under international control to "uproot US aggression", hours after President Barack Obama said he would "absolutely" put on hold any military strike on the country if it does so.
Syria's Foreign Minister Walid al-Moallem said his country quickly "agreed to the Russian initiative". He said Syria did so to "uproot US aggression."
"Yesterday, we had a round of very fruitful negotiations with (Russian Foreign Minister) Sergei Lavrov and he came forward with an initiative on chemical weapons," Muallem said after a meeting with Russian parliament (Duma) speaker Sergei Naryshkin in Moscow.
On Monday, Moallem welcomed Russia's initiative.
"I carefully listened to (Russian foreign minister) Sergei Lavrov's statement about it. In connection with this, I note that Syria welcomes the Russian initiative based on the Syrian leadership's concern about the lives of our nationals and the security of our country," Muallem had said.
The proposal put forward by Russia -- a key ally of Syria -- is a dramatic shift after America was gearing up for weeks to lauch attacks against the embattled regime.
Earlier in the day, Russia announced that it was holding talks with the Bashar al-Assad regime to formulate a "workable, precise and concrete" plan for the smooth transfer of the chemical weapons.

"We (Russia) are currently working on preparing a workable, precise and concrete plan and for this there are literally right now, in these minutes, contacts with the Syrian side," Lavrov said today.
"And we expect to present this plan soon and we will be ready to work on it with the UN secretary general, the Organisation for the Prohibition of Chemical Weapons, with the participation of members of the UN Security Council," he said.

Meanwhile in separate interviews with six US news channels, Obama said, "If Syrian President gives up his chemical weapons, a military strike would absolutely be on pause." He also called the Russian proposal a "potentially significant breakthrough."
"Absolutely, if, in fact, that happened," Obama said when asked if the military strike was on pause if Assad yields control of his chemical weapons to international authority.

"That's in our national security interest. If we can do that without a military strike, that is overwhelmingly my preference. And now the key is, can we see a sense of urgency?" Obama told ABC News.

Asserting that he always preferred a diplomatic resolution to the Syrian crisis, Obama said, "I fervently hope that this can be resolved in a non-military way."
Obama, unsure of getting enough Congressional support on Syria, said he would take a final decision after talking to American people directly.
According a media report, Obama could fall short of 50 votes needed to get Senate authorisation for a military strike against Syria for its alleged use of chemical weapons against its own people.

The US had alleged that Sarin -- a deadly nerve agent -- was used by the Assad regime near Damascus on August 21 that left at least 1,429 civilians, including over 400 children, dead.
The Syrian government denied the charge, saying rebels had used the deadly gas to defame it.
In Paris, French Foreign Minister Laurent Fabius today said France would place forward a resolution in the UN Security Council to press Syria to dismantle its chemical weapons.
The proposal would also condemn the chemical weapons attack in Damascus, he said.
In Cairo, the Arab League head Nabil Elaraby expressed the group's backing for the Russian proposal, saying the League has been always in favour of a "political resolution."
But the Russian initiative failed to bring cheers among Syrian rebels, who dismissed it as a manoeuvre to escape punishment.
Meanwile, the main opposition bloc -- Syrian National Coalition -- said the proposal "aims to procrastinate and will lead to more death and destruction of the Syrian people."
"A violation of international law should lead to an international retaliation that is proportional in size," it said in a statement.
"Crimes against humanity cannot be dropped by giving political concessions or by handing over the weapons used in these crimes."