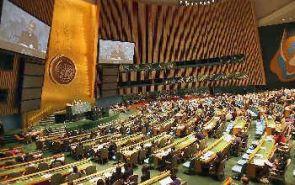 Syria has appealed to the UN to try to "prevent any aggression" against it and said US military action would amount to "support for Al Qaeda and its affiliates," even as President Barack Obama today lobbied with war-weary American lawmakers to convince them for a strike.
"The Syrian government calls on the UN secretary general to assume his responsibilities... and to make efforts to prevent any aggression against Syria," the state-run SANA news agency said, quoting a letter from Syria's UN representative Bashar al-Jaafari.
The letter also called on the United Nations to help seek a "peaceful political solution to the crisis" in Syria.
Meanwhile, a senior Syrian minister was quoted as saying by BBC that any US military action against Syria would amount to "support for al-Qaeda and its affiliates."
"Any attack against Syria is support for Al-Qaeda and its affiliates, whether Jabat al-Nusra or the State of Islam in Syria and Iraq," Syrian Deputy Foreign Minister Faisal Muqdad said.
Muqdad, who is considered to be highly influential within President Bashar al-Assad's government, also warned that possible US intervention would deepen "hatred for the Americans" and destabilise the whole Middle East.
The US has claimed 1,429 people were killed in the alleged chemical attacks carried out by the Assad regime in a Damascus suburb on August 21.
Syria, however, has denied US charges, saying jihadists fighting with the rebels used the deadly weapons in an effort to turn global sentiments against it.
Obama, Vice President Joe Biden and White House Chief of Staff Denis McDonough have made individual calls to members of Congress, a senior White House official said.
The aggressive lobbying comes after a classified briefing was held on Capitol Hill late on Sunday.
In a surprise move, Obama has sought congressional approval for limited military intervention in Syria to win more support for his plan to punish the Assad regime for the attack.
Obama administration is facing resistance from lawmakers even before Congress officially comes back to Washington on September 9.
Resistance against the imminent US strike is also mounting at the international front with veto-wielding Russia saying that it was totally unconvinced by the evidence presented by the US and its allies.
"What we were shown before and most recently by our American partners as well the British and the French absolutely does not convince us," Russian Foreign Minister Sergei Lavrov said.
"What we were shown before and most recently by our American partners as well the British and the French absolutely does not convince us," Russian Foreign Minister Sergei Lavrov said.
Lavrov said that there were "many doubts" about images of the alleged attack posted on the Internet. A media report today said that Russia has sent a reconnaissance vessel from its Black Sea fleet to the coast off Syria.
The SSV-201 intelligence ship Priazovye on Sunday evening started its voyage from its home port of Sevastopol in Ukraine "to the appointed region of military service in the eastern Mediterranean," a military source told the Interfax news agency.
Chinese foreign affairs spokesman Hong Lei said, "We are gravely concerned that some country may take unilateral military actions."
"We believe that any action taken by the international community should abide by the purposes and principles of the UN charter as well as basic norms governing international relations, so as to avoid complicating the Syrian issue and bringing more disasters to the Middle East region," Hong said.
France may also hand over evidence to lawmakers proving Assad regime's hand in the chemical weapons attack in Syria, media reports said.
Israel's President Shimon Peres has also backed Obama.
"I have full faith in President Obama's moral and operational stance," Peres said in an interview with Israeli army radio.
Syrian media reacted sharply to Obama's decision of seeking congressional approval for a strike on Syria.
"Whether the Congress lights the red or green light for an aggression, and whether the prospects of war have been enhanced or faded, President Obama has announced, by prevaricating or hinting, the start of the historic American retreat," state-run Al-Thawra daily said in a sarcastic tone.
When asked to comment on the Syrian media statement that seeking congressional authorisation for military action against Syria is "the start of the historic American retreat," US Secretary of State John Kerry yesterday replied, "I don't believe so at all."
Kerry said Obama has the right to take action against Syria, with or without Congress' approval. But he stopped short of saying Obama was committed to such a course even if lawmakers refuse to authorise force.
Earlier, the embattled Assad regime said it has its "finger on the trigger" over an imminent military strike from the US and its Western allies.