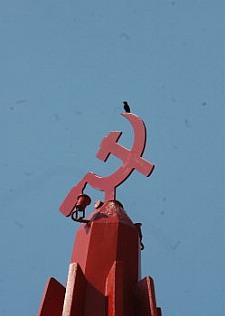 Jonathan Bond, a Swiss national, was detained by the Kerala police for attending a memorial function in Thrissur organised for Sinoj, a suspected Maoist who was killed while making bombs in Andhra Pradesh. The police allege that Bond spoke during the memorial function held in a private hall in Thriprayar, Thrissur on July 28.
Bond, 24, had come to Kerala with his girlfriend on a tourist visa. The friend did not attend the meeting.
Thrissur Superintendent of Police Vijay Kumar told rediff.com over the phone, "He is here on a tourist visa. He has violated the visa norms. When you come here as a tourist you don't go around making speeches at Maoist meetings. He is in jail now."
Kumar said Bond was not a Maoist and he was arrested for attending and speaking at the meeting.
The SP added, "We have produced him in the local court and have informed the court what he has done. Now it is up to the court to decide the quantum of punishment."
Bond landed in Kerala on July 10 and he was staying in Kannur. Local media reported that he came to study history in Kerala.