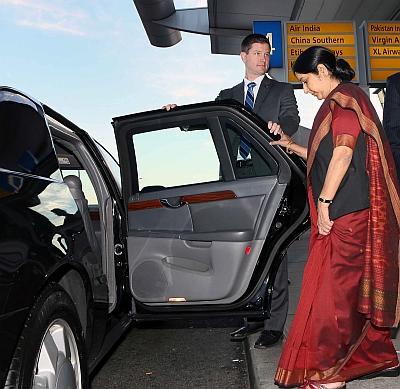 External Affairs Minister Sushma Swaraj arrived in Beijing on Saturday on a four-day visit to China during which she would meet Chinese President Xi Jinping and hold talks with her Chinese counterpart on wide-ranging bilateral and multilateral issues besides attending the Russia-India-China trilateral.

This is the 62-year-old leader's first visit to Beijing after she took over the office last year.

Swaraj is expected to finalise arrangements for opening the second route of the Kailash-Manasarovar Yatra in Tibet for which China agreed last year to open it for Indian pilgrims.

The route through Nathu La Pass in Sikkim which facilitates comfortable travel by buses through Tibet was expected to be opened in the next few months.

Swaraj is accompanied by new Foreign Secretary S Jaishankar, among other senior ministry officials.

This is Jaishankar's first foreign trip after being appointed two days back, replacing Sujatha Singh whose tenure was abruptly "curtailed".

He served as India's Ambassador to China for nearly four years before being appointed as Ambassador to the US in 2013.

During the trip, that comes within a week of US President Barack Obama's three-day visit to New Delhi, Swaraj will "discuss bilateral, regional and global issues of concern to both sides" with her Chinese counterpart Wang Yi, Ministry of External Affairs said in New
Delhi on Friday.
The two sides will also explore the possibility of a visit by Prime Minister Narendra Modi later this year.
Swaraj is also expected to meet Xi, who along with Wang, had visited India last year immediately after the installation of the Modi government.
During her stay in Beijing, Swaraj will speak at the India- China Media Forum, interact with the Indian Community of Beijing and inaugurate the 'Visit India Year' aimed at attracting more Chinese tourists to India.
Earlier, Chinese Foreign Ministry spokesperson Hua Chunying told media that China attaches "great importance" to Swaraj's visit and bilateral ties between the two largest developing countries and major emerging economies were progressing in a "sound and stable way".
Ahead of her visit, a number of articles in Chinese official media came out with critical commentaries accusing Obama of attempting to create a wedge between China and India to further US Asia Pivot strategy to contain the communist nation's influence.
Swaraj will also attend the RIC meeting with her Chinese and Russian counterparts.
Hua said being emerging markets, the three countries share similar views on major international and regional issues and hence, "will exchange views on practical cooperation and issues of common interest".
"We believe a range of consensus will emerge from the meeting to further our political trust and our practical cooperation," she said.