In another somersault, the BJP MP claims Arun Jaitley looks smart in a suit.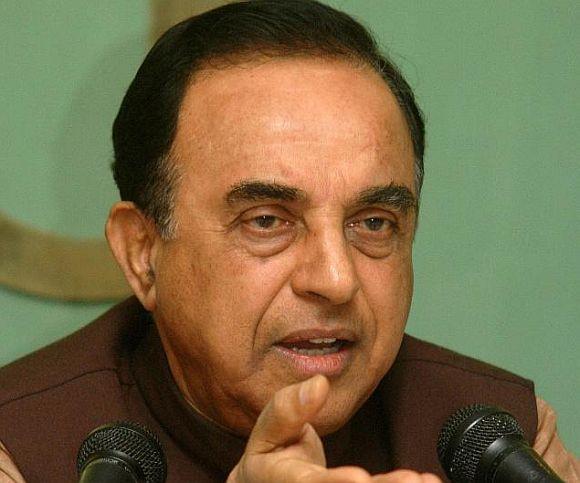 Bharatiya Janata Party Member of Parliament Subramanian Swamy on Saturday, June 25, sought to downplay his threat of a 'bloodbath,' making it clear he did not intend the literal meaning of the word but only hinted at 'chaos' which has not happened.
"I said I am the most disciplined person. If I was indisciplined, there would not be what they called as bloodshed. Bloodshed did not mean blood spilling. Bloodshed means there will be chaos. And I said that because I am disciplined, nothing of that kind happened," Dr Swamy told a press conference in Thiruvanthapuram.
The BJP leader said his usage of the word was "misunderstood" as everyone took the literal meaning of bloodshed.
Asked about the BJP leadership's reported unhappiness over his attacks targeting finance ministry officials, he said, "That is what your press is saying. I don't know."
Finance Minister Arun Jaitley had counselled Dr Swamy (without naming him, of course) to be restrained in public discourse while attacking government officials who are unable to defend themselves.
The BJP distanced itself from Dr Swamy's attacks on Chief Economic Adviser Arvind Subramanian and Economic Affairs Secretary Shaktikanta Das, in whose defence Jaitley spoke strongly. On Friday, sources said the BJP leadership was upset over Dr Swamy's public comments.
Replying to questions about his "shifting" from one party to another, Dr Swamy said there was a time late Jayaprakash Narayan used to attack the Rashtriya Swayamsevak Sangh. Later, he said, JP came to the conclusion that the RSS had evolved to a point where without it democracy cannot be restored.
Dr Swamy also referred to the Congress bringing down the I K Gujral government on the Rajiv Gandhi assassination issue and later tying up with the Dravida Munetra Kazhagam.
"I can go on giving you names, parties which held positions and then after new material comes into existence, change it," Dr Swamy said. "Now neither the RSS minds what I said nor am I opposed to what the BJP said about me.
"We nationalist forces had to come together because there was a danger," Dr Swamy said, alleging that Congress President Sonia Gandhi had tried to declared a state of emergency in 2011-2012 "cooking up this Hindu terror basis."
Under criticism over his 'waiter' tweet jibe, Dr Swamy made tongue-in-cheek remarks at his press conference, complimenting Jaitley for his "smart" looks and ticking off Robert Vadra, who spoke of the dignity of waiters.
The nominated BJP member of the Rajya Sabha said he did not target anybody and what he only wanted was that politicians should not look like waiters.
"The attire comment was not against anybody. I only said politicians should not look like waiters. There is nothing wrong in it (to wear such attire). I said they should not be mistaken...that's all," Dr Swamy told the press conference.
"I did not aim anybody. Actually Mr Jaitley looks very smart in the attire. He looks like an exception," he said.
Dr Swamy also hit back at Robert Vadra, who criticised him for his 'derogatory' remarks about waiters and termed them 'classist,' saying Vadra was pained as his mother was a waitress in a restaurant in England.
"I can sense Vadra's pain. Because his mother was a waitress. She was a waitress in a small restaurant in England and so he feels offended that I made fun of waiters," the MP said, adding that he did not make fun of waiters.
In a Facebook post, Vadra said, 'Undermining waiters who work hard for a living; making condescending and derogatory remarks about them is deplorable and classist.'