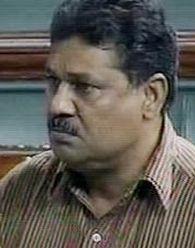 Suspended Bharatiya Janata Party Member of Parliament Kirti Azad is likely to face stringent action for his graft allegations against Union Minister Arun Jaitley as the party's Central Disciplinary Committee has found him "failing in maintaining discipline" and "causing embarrassment to the party".
"We have submitted the report to the party high command observing that he has crossed the 'laxman rekha' and it is for the Central Parliamentary Board to take further action," Ganeshi Lal, chairman of the disciplinary committee said.
Lal, who was in Shimla, as the central observer for the state BJP chief elections, said that the "function of the committee is only to ascertain that whether the utterances made by Azad dented the image of the party, caused embarrassment to the leaders or created discomfort or unpleasantness and our observation is that he was failing in maintaining discipline and hurt the party by his utterances."
The BJP leader noted, "It is normal if our opponents criticise the party or its leaders, but no leader claiming to be a dedicated soldier of the party can have the license, liberty or luxury to publicly criticise the party or its leaders and cause embarrassment to the top leadership.
"If Azad wants to attack the party or its leaders, he should resign and speak whatever he wants," he added.
Azad had levelled graft allegations against Union Minister Arun Jaitley during his 13-year-old tenure as the Delhi and District Cricket Association chief.
The suspended MP claimed that the Serious Fraud Investigation Office probe report had recommended "prosecution" of Jaitley in the DDCA affairs even as he targetted more politicians, including party MP and BCCI secretary Anurag Thakur.