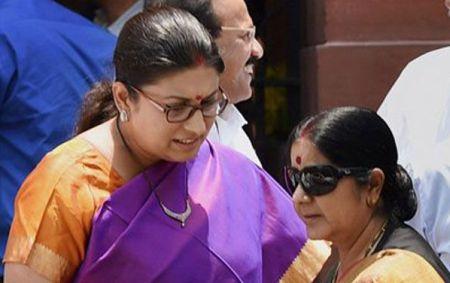 The government on Wednesday rejected the Congress party's demand for the resignation of Union ministers Sushma Swaraj and Smriti Irani over 'Lalitgate' and 'fake degree' controversies, saying "our ministers do not do all that their (the United Progress Alliance) ministers used to do".
"Our ministers do not have to resign. This is not their (Congress') government. This is the NDA government," Home Minister Rajnath Singh told reporters at the Cabinet briefing.
He was asked how will the monsoon session run smoothly as the Congress has been demanding resignation of at least three Bharatiya Janata Party ministers over the controversies.
The Congress kept up its attack against the National Democratic Alliance dispensation, seeking the sacking of External Affairs Minister Swaraj from the Union council of ministers and resignation of Rajasthan Chief Minister Vasundhara Raje on the 'Lalitgate' issue.
Besides, the party's student wing National Students' Union of India on Wednesday held a protest outside Shastri Bhavan seeking "immediate resignation" of Human Resource Development Minister Smriti Irani, accusing her of holding "fake" degrees.
While the home minister was dismissive of the demand of resignations, Telecom Minister Ravi Shankar Prasad reasoned that the NDA ministers "do not do all that" was being done by ministers in the UPA government.
"Let me add, our ministers do not do all that their (UPA's) ministers used to do," Prasad said, in an obvious reference to scandals during the UPA era involving then Union ministers."
The remarks by the two senior ministers came a day after BJP MP R K Singh had struck a discordant note over Swaraj and Raje allegedly extending help to former IPL boss Lalit Modi, saying "any help to a fugitive is legally and morally wrong".
Singh's strong comments were the first public criticism by a ruling party MP against the help extended to Modi by Swaraj and Raje, an issue which has snowballed into a major political controversy for the Narendra Modi government even though BJP has defended both the leaders.
Swaraj and Raje have been facing flak from the Opposition for helping Modi in procuring travel documents in the United Kingdom.

Image: Union ministers Sushma Swaraj and Smriti Irani. Photograph: PTI