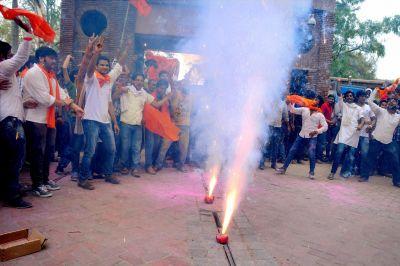 The fight over FYUP is between a highly controversial decision taken during the United Progressive Alliance rule and how the National Democratic Alliance government perceives it and how it is determined to resolve it in its own way, reports Sheela Bhatt.
The is a moment of collective shame," said Apoorvanand, professor of Hindi in DelhiUniversity and a well-known social activist.
He was speaking to Rediff.com about the mess created by the hasty introduction of the Four Year Undergraduate Programme last year in DelhiUniversity, and the University Grants Commission's recent strongly-worded directive to DU to scrap it and revert to the old-style three-year degree course.
In a stern alert to students, the UGC has placed advertisements in New Delhi newspapers urging them to seek admission only to the three-year degree course.
Obviously matters have come to a level where students are being kicked around like football. The fight is between a highly controversial decision taken during the United Progressive Alliance rule and how the National Democratic Alliance perceives it and how it is determined to resolve it in its own way.
Under the leadership of newly-minted minister Smriti Irani, the human resources development ministry has sent the message out loud and clear that a) the decision of the DU vice chancellor to introduce FYUP is blatantly illegal; 2) students who took admission under it last year should take DU to court; and 3) DU should immediately resolve the issue with the UGC, without wasting any further time.
The UGC funds DU and recognises its degrees awarded to students.
Herein lies the catch.
While it is totally understandable that the FYUP is questionable and has drawbacks, why should the UGC be allowed to scar the DU with its actions?
This is a Shakespearean tragedy of an intense nature playing out in Indian public life. It's a clash of institutions where the autonomy of one is pitted against the other.
It will affect not just the students of FYUP who have become unwitting victims but it will go even beyond as it exposes the hollowness of India's undergraduate education sector.
Last year, in a reckless manner, DU, one of the biggest and best universities in the country, disregarded the larger issue of its relations with the UGC, the opposition to its plan, and even disregarded the issues and questions regarding its structure and quality.
Professor Apoorvanand is against the UGC's dictate to DU, but 18 months back he had campaigned intensely against the vice chancellor Dinesh Singh's plan to introduce FYUP.
Apoorvanand says, "The FYUP syllabus is a disaster, actually it's a farce. In the first year students are asked to study 11 foundation courses. These courses are of the level of sixth, seventh or ninth standard. Why should a student who has passed 12th standard study low-level courses? Every day of the first year course was making us a laughing stock."
But, Apoorvanand says, "Much before it was introduced, so many people met the UGC and everybody else who mattered."
UGC, which is acting so aggressive today, had then said the issue was not under its purview and refused to intervene. UGC members Yogendra Yadav and Prof M M Ansari had drawn the attention of UGC chief Ved Prakash to the issue, who didn't act then but is now determined to control DU through laws and terms of funding.
The current controversy in short revolves around the DU vice chancellor's dream child. He is a man who listens to himself. He got the idea that the three-year degree course is somehow not helping students become employable so let's have a four-year degree course. If a three-year degree course didn't get the student a job in Infosys or with the Tatas, how will a four-year course do so, nobody knows.
The VC then told the heads of department, 'Let's have a new syllabus'. So in flat five-six weeks he forced them to finalise a new syllabus, a task that academics at Princeton or SingaporeUniversity take at least two years to do. Our Delhi intellectuals were forced to develop the syllabus for India's future generation in just six weeks.
That done, Singh went ahead with it. Meanwhile, at that time the DU Teachers Association and many others right inside UGC were against the plan so they put up robust opposition to Dinesh Singh who was also privately called a "Hindi-speaking feudal lord" who was more worried about the "legacy" of his tenure than anything else.
"FYUP has got a shabby syllabus and needs urgent attention to revise it because each day of the first year of the new course is a continuing disaster," says Professor Apoorvanand.
The professors and students who opposed the FYUP went up to Prime Minister Manmohan Singh, a DU alumnus himself. But he asked the most-expected counter-question, "How can I interfere in DelhiUniversity?" The PM's lukewarm response went down well for Dinesh Singh.
UGC, which is also a culprit along with Dinesh Singh's coterie inside DU, got the signal that the UPA was backing their fervour for FYUP. At that time, DU teachers had also met Bharatiya Janata Party leaders and others but no one helped.
Apoorvanand told Rediff.com, "I am against the UGC interfering in DU. That is totally unacceptable. So we will recommend that what we didn't do before can be done now. Let's form a committee to review FYUP. If we accept the UGC's diktat it will almost amount to a takeover of DU by the UGC."
He argues that last year the DU vice chancellor could do something like introducing a new course without much debate and without wider deliberations because he was accountable to no one. Singh didn't improve the physical and human infrastructure before venturing out with his new idea. While the IIMs and IITs' directors are accountable to their governing boards, DU's top bodies like the executive council are chaired by the university's VC.
Professor Apoorvanand said both institutions should play a fair game. The UGC should understand that its responsibility is to see that universities funded by them should maintain a high standard of education and keep equivalence among various universities, he says.
But the UGC can't decide the contents of degree courses. The university's individuality and unique character must be maintained, as the autonomy of any university is paramount, he concludes.
One can only shudder to think if this is the state of India's top university, what must be going on in the other universities in the country.
Image: Members of Youth for Change burst crackers as they celebrate the University Grants Commission's diktat to Delhi University on the FYUP, in New Delhi on Monday. Photograph: PTI Photo.