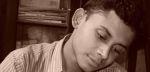 The Communist Party of India-Marxist on Wednesday demanded a judicial probe into the death of Students Federation of India leader Sudipto Gupta in police custody in Kolkata, refuting the police's claim that he died after falling down from a bus.
"We just cannot accept this act of the police in any state where the police grants permission for peaceful demonstrations to be held. But in Kolkata, it beats up the students, arrests them, takes them in buses and in the process virtually murders a student," CPI-M Politburo member Sitaram Yechury told reporters.
"Under police custody, such a death is something that cannot be accepted. The police version (that he died after falling from the bus) is incredulous. Therefore, we think there should be a judicial inquiry into this," Yechury said.
Soon after Gupta died last evening, West Bengal CPM leaders too had sought a judicial probe alleging that the 22-year-old student died due to injuries suffered by him in a lathicharge by the police.
The incident occurred after SFI supporters gathered in Rani Rasmoni Road area in Kolkata for a protest rally to demand holding of college union elections in the state.
The police arrested 331 SFI supporters and put Gupta and 30 others activists into a bus to be taken to a police station. Gupta allegedly fell from the running bus, suffered serious wounds and died in a hospital.