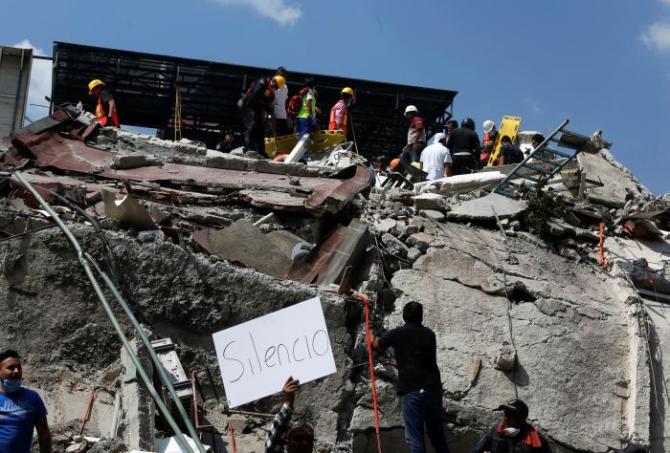 IMAGE: A man holds up a sign that reads 'silence' as rescue personnel look for people underneath the rubble of a collapsed building after an earthquake hit Mexico City on Tuesday. Photographs:Claudia Daut/Reuters
More than 248 people have been killed after a powerful earthquake of magnitude 7.1 on Richter scale struck Mexico on Tuesday, causing serious damage to lives and property in the region.
The casualties included at least 21 children who were crushed beneath an elementary school that was reduced to rubble..
The death toll is expected to rise as rescuers are still digging out people trapped beneath mounds of rubble.
Citing the US Geological Survey, CNN reported that the epicentre of the of the quake was 4.5 kilometers east-northeast of San Juan Raboso and 55 km southwest of the city of Puebla.
According to the reports, the quake was felt in the center of Mexico City, which is only about 121 km from the epicentre.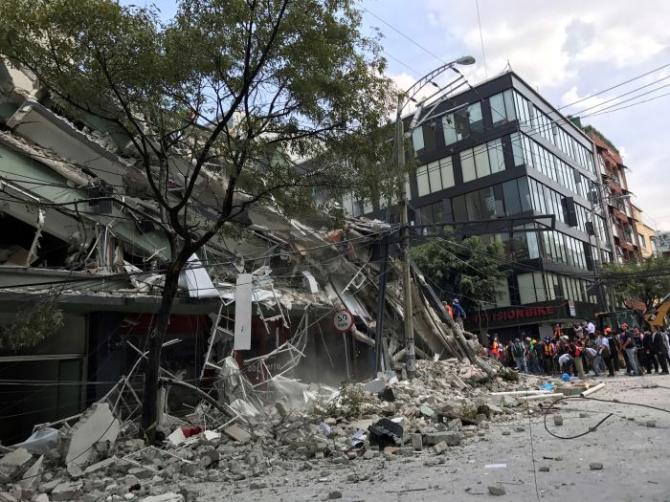 IMAGE: A collapsed building is seen in Mexico City.
The earthquake struck at a depth of about 51 km.
Several buildings in Mexico City were severely damaged and thousands of people were seen fleeing from the office buildings.
The quake is the deadliest in Mexico since a 1985 quake on the same date killed thousands. It came less than two weeks after another powerful quake caused 90 deaths in the country's south.
Luis Felipe Puente, head of the national Civil Defence agency, tweeted Tuesday night that the confirmed death toll had risen to 149, which was later revised to 248.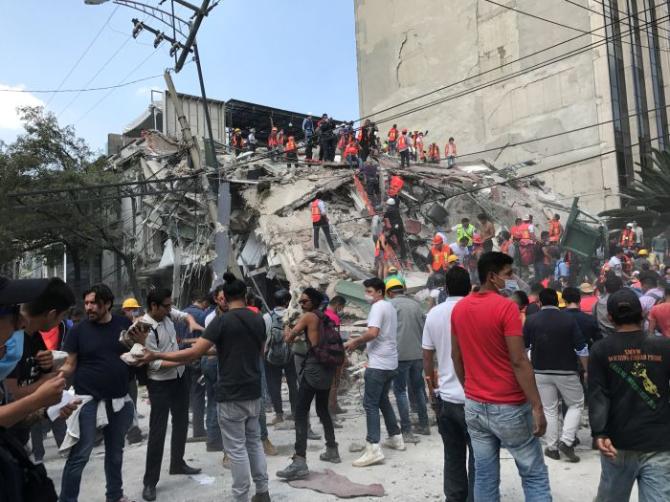 IMAGE: People work at the site of a collapsed building.
His tweet said 64 people died in Morelos state, just south of Mexico City, though local officials reported only 54.
In addition, 36 were killed in the capital, 29 in Puebla state, nine in the State of Mexico and one in Guerrero state, he said.
Three floors of the Enrique Rebsamen primary school collapsed, trapping students and teachers inside.
21 children and five adults were killed, Major Jose Luis Vergara of the Mexican navy, who was coordinating the rescue effort, was quoted as saying.
He said another 30 to 40 people remained trapped inside, while 11 children have been rescued so far.
Emergency workers found a teacher and a student alive beneath the rubble and are trying to get them out, he said.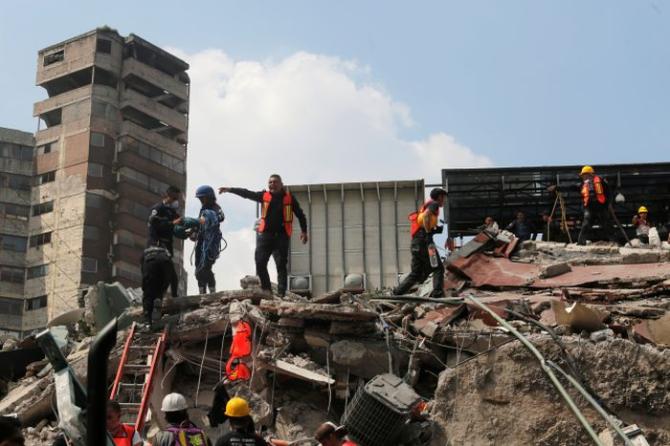 IMAGE: Rescue personnel stand on top of the rubble of a collapsed building while searching for survivors.
Local media reports said soldiers had administered oxygen to one trapped child through a tube.
Mancera, the Mexico City mayor, said 50 to 60 people were rescued alive by citizens and emergency workers in the capital.
In addition to Mexico City, people were also killed in Puebla, Morelos, Mexico state and Guerrero.
Authorities said at least 70 people in the capital had been hospitalised for injuries.
Electricity and cellphone service was interrupted in many areas and traffic was snarled as signal lights went dark.
Mexico City's international airport closed for more than three hours following the quake. The stock market was forced to shut.
United States President Donald Trump, who has forged an antagonistic relationship with Mexico, tweeted: 'God bless the people of Mexico City. We are with you and will be there for you.'
Canadian Prime Minister Justin Trudeau tweeted: 'Devastating news from Mexico City. My thoughts are with those affected by today's earthquake -- Canada will be ready to help our friends.'
With ANI inputs.